May 25, 2014 | Heard it through the Grapevine | Adirondack Winery Staff
Heard it Through the Grapevine: Meet Vincent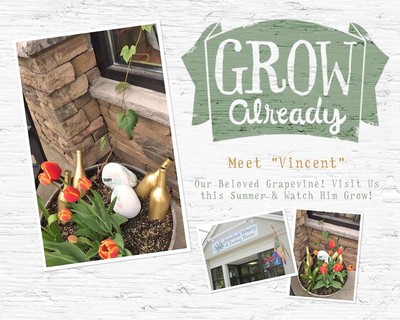 You may have seen my picture on Facebook or Instagram, but I would like to formally introduce myself. My name is Vincent the Vine and I am the newest member of the Adirondack Winery team; Although, you may not have noticed, because they never let me inside! I guess I can't complain... I've got a pretty nice view of the lake and I get the "dirt" on the winery as I listen to all of you chat outside the Tasting Room doors. I have to say, it sounds like a lot of fun in there!
Just last week, a big bus pulled up in front of our store & 150 people came in and out all day long! They were talking about wine and cheese and something called a slushie... it sounded pretty delicious! Everyone was talking about how much fun they had and how good everything was, and I was getting pretty jealous. No one will share with me though, because Ava told everyone that she's in charge of feeding me and that I've had enough. And do you know what she feeds me?...Water! All of you get wine and I get water. It just doesn't seem fair.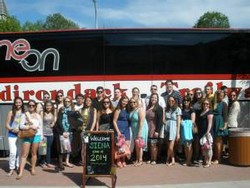 I've noticed that a lot of you have come into town for Memorial Day weekend and while I am quite enjoying the rain, a lot of you seem to be a little disappointed in the weather. Luckily Adirondack Winery has just extended their hours from 11a-8p, Mon.-Thurs., 11a-9p, Fri. & Sat., and 11a-6p on Sundays, so there is plenty of time to take shelter in the Tasting Room, enjoy a wine tasting and stock up on your wines for your Memorial Day picnics and barbeques. Did you know that you can do a wine tasting for just $6, try many different wines of YOUR choice AND keep your souvenir, Adirondack Winery glass? I don't know much about money, but that sounds like a pretty good deal to me!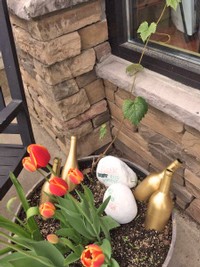 I do hope that the sun makes an appearance today and tomorrow so that you can enjoy your holiday weekend in beautiful, Lake George, but I'm pretty sure that the Adirondack Winery wine you bought will taste just as good indoors as it would outside! If you haven't stopped by the Tasting Room yet, I do hope you'll pay us a visit! I heard that on Memorial Day, the staff will be serving up FREE wine tastings for all military personnel... all you have to do is bring your valid, military ID!
I will be sure to report back soon & update you on what's been happening at Adirondack Winery. Stop and say hello, next time you visit the Tasting Room; I love to have my picture taken, so if you take any pictures with me, be sure to share them online and use #VincentTheVine so that I can see them!
If you have any questions or suggestions as to what you would like me to report on, you can email me at ILoveWine@AdirondackWinery.com & I will try my best to make sure you hear it through the grapevine!
Comments
Commenting has been turned off.