September 21, 2021 | Colleen Senglaub
Help Us Raise $12,000 During Our Drink Pink Fundraiser!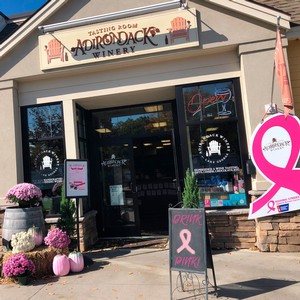 Drink Pink is officially back and with your help, we're going to set a new fundraising record!
Our goal for this year is to raise $12,000 for the American Cancer Society's Making Strides Against Breast Cancer of the Adirondacks.
We plan to get there in a few ways, including:
CLICK HERE TO WATCH LAST YEAR'S VIDEO FROM WALK DAY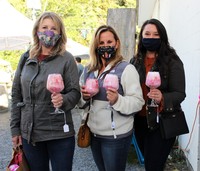 Plus, this year we are planning three Drink Pink Uncork & Craft events at our Tasting Rooms!
The first two will be wine glass candlemaking with Wax 'n' Wix at our Queensbury Winemaking Facility. These will be outdoor events, with crafting, wine tastings, games, snacks and wine cocktails in beautiful October weather.
The last of the three will be a wine glass painting event at our modern and spacious Bolton Landing Tasting Room.
Tickets are on sale now and we anticipate all 3 events to sell out, so we encourage you to get your tickets soon. Click here to get yours.
If you can't make it to these events, you will be able to support Drink Pink anytime you visit the Tasting Room in October. We are currently booking about 1 month out, and we strongly encourage reservations if you plan to visit, especially on weekends. There will also be many opportunities to support the fundraiser online, simply by ordering your favorite wines!
Thank you to everyone who is supporting this year's Drink Pink fundraiser, including:
Creations By DM | Barkeater Chocolates | Lake George Steamboat Company | The Boardwalk Restaurant | American Oak Distillery | Waterloo Container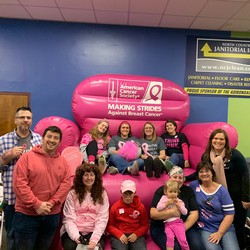 Our Drink Pink festivities will culminate with the Making Strides Against Breast Cancer Walk on Sunday, Oct. 24th.
All are welcome to join our walk team, and we hope you will consider doing so!
Bring your family and walk for awareness! The walk kicks off at 10am at Glens Falls City Park.
It would also be AMAZING if you could share information about what we're doing and links to our fundraiser on your social media pages to help spread the word! Share adkwinery.com/joinourteam to get others involved and raise your personal fundraising totals!
Adirondack Winery is so proud of our team and proud to support an amazing organization like Making Strides Against Breast Cancer. Last year, with your help, we raised $11,000 to fund breast cancer research, transportation to and from chemotherapy, a live 24/7 cancer helpline and so much more.
From the bottom of our hearts, thank you so much for supporting this cause that means a ton to our company, our staff, our families, and our friends. We are so grateful for your help and we can't wait to do an even better job next year!
Comments
Commenting has been turned off.