January 14, 2015 | Adirondack Winery Staff
Let us be your Valentine...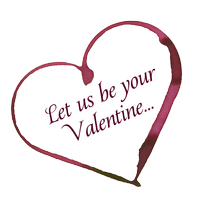 Valentine's Day is typically celebrated with cards, flowers and chocolates; a little cliché, and leaving people either loving or hating the holiday.
The history of Valentine's Day traditions are actually not entirely clear. One of the legends is that this day of romance is celebrated in honor of Saint Valentine, a priest who served in third century Rome. He was said to be executed after Emperor Claudius II discovered he was marrying young men and women in secret ceremonies, after marriage was banned (the Emperor believed single men made better soldiers than married men).
Despite which story you may know or believe, Valentine represents a heroic and romantic character. So in honor of this long-standing tradition, let us be your Valentine this year. We'll save you from the cliché gifts (although we may indulge in a few), and have you looking like Prince (or Princess) Charming.
Our first act of heroism... VALENTINE'S DAY IS SATURDAY, FEBRUARY 14TH! Go on... Circle it on your calendar. P.S. It's the same date every year.
Phew! First crisis averted. The best part... you have an entire month to plan!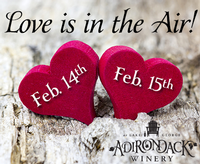 Now, for something to do. Did you know that Adirondack Winery is the most romantic place to be on Valentine's Day? It's true! Bring your Valentine to the Tasting Room on February 14th or 15th and we'll do most of the work for you. We will greet you with our specialty "Love Potion #9" wine cocktail and a chocolate kiss (don't worry, we'll leave the real kiss to you two lovebirds).
Next we will welcome you to our tasting bar where you can enjoy one of our three Candy Heart Wine Tastings. Choose from our "Sweetheart," "Be Mine," or "True Love" tasting and sample a number of our wines, cheese plates and even some more chocolate! After your tasting, you can shop around and pick up a special souvenir for your Sweetheart. Purchase a bottle of our Personalized Wine online, in advance, along with your tasting package and we can have it ready for you when you arrive!
Are you more of a private Romeo? Well, this chilly winter weather is the perfect excuse to stay in and snuggle up by a fire with your Valentine. You don't even have to leave your house to stock up on your Valentine's Day wine and gifts... We'll deliver them right to your front door!
Here are a few tips to make your romantic night in more memorable than a night out at a busy restaurant:
1- Skip the Card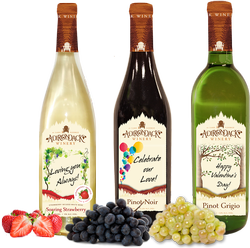 This year, opt for including a love note on one of our personalized bottles of wine, instead. You'll get the sentiment of a card with the enjoyment of your favorite bottle of Adirondack Winery wine (a 2-fer, if you will), and the bottle can be saved and cherished for years to come!
2 - Make Dinner Together
Choose a few special wines to incorporate into a romantic dinner for two. Toast to your love with a glass of Soaring Strawberry while you work together to make a wine infused meal. Visit our recipes section of our website for some unique and tasty dinner and dessert recipes to enjoy together.
3 - Enjoy Each Other's Company
Light the fire and turn up the romance with your Valentine and your favorite bottle of wine. A nice red, like our Cabernet Sauvignon or even a dessert wine like our Fireside Reserve make the perfect pairing for a relaxing evening with the one you love.
Regardless of how you feel about this holiday, it's always important to take the time out to tell your special someone how much you love and appreciate them. So raise your glass to love and indulge in the traditions of having a very Happy Valentine's Day this year!
Cheers!
Comments
Commenting has been turned off.