April 7, 2016 | Wine Award Announcements | Sasha Pardy
PLATINUM MEDAL for Adirondack Winery Meritage!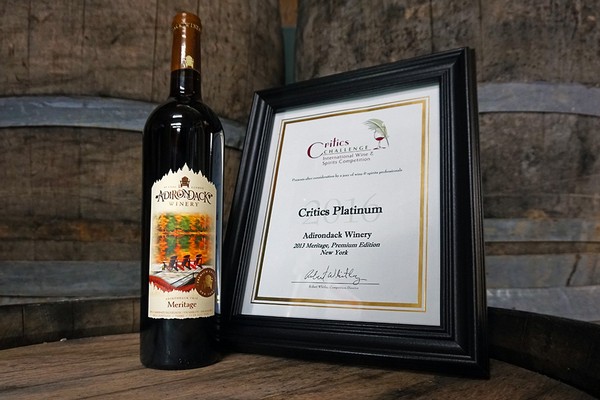 I am excited to report that our Meritage was awarded a PLATINUM Medal and a score of 95 points at the 2016 Critics Challenge International Wine & Spirits Competition!
Of all the wines we offer, this is my absolute favorite, and I am so glad to see that the judges agree! What a "tip of the hat" this is to my husband, Mike, and his Wine Making Assistant, Brad, for producing a platinum level wine…they just keep improving our wine list year after year!
At the Critics Challenge, our Meritage was judged alongside more than 1,300 wines from 14 countries. Of those, only 5% of the wines submitted were awarded with a Platinum Medal! The medal also came with a judges' overall score of 95 points! Rich Cook, a reviewer for WineReviewOnline.com said that, while light in color, our Meritage is "certainly not light on flavor or fragrance, presenting itself like fine Bordeaux. Blackberry, vanilla, black cherry, dry earth and lively spice and chocolate mix well together on a bright palate that intensifies in the long finish. Nicely done!"

Let me tell you a little bit about our Meritage, as it is a very special wine. The name Meritage (pronounced like "heritage") combines "merit," reflecting the quality of the grapes, with "heritage," which recognizes the centuries‐old tradition of blending, long considered to be the highest form of the winemaker's art. A true reflection of the wine.
We have earned the right to call this wine "Meritage" by following strict guidelines set forth by the National Meritage Alliance, obtaining a license to use the name. Meritage wines must be a blend of at least two of the traditional red or white Bordeaux grape varieties (for reds, Bordeaux grapes include Cabernet Sauvignon, Merlot, Malbec, Cabernet Franc, Petit Verdot and Carmenere), and no single varietal can make up more than 90% of the blend. Meritage wines are highly regarded for their aging potential, but are also excellent in their youth.
To craft our 2013 Meritage, Mike carefully selected Cabernet Sauvignon and Merlot grapes from New York, and Malbec grapes from California – a 39% Cabernet Sauvignon, 37% Merlot, 24% Malbec blend. He aged the wine in First Vintage American Oak Barrels – the first time these particular barrels were used, which allows them to impart more oak flavor – for more than two years, producing only 220 cases for the wine's release in June of 2015.
I love any opportunity I have to pair this Meritage with food. One of my favorites is a charred burger with gruyere cheese, mushrooms and onions, but pairing it with wood-fired pizza, tomato-based pasta dishes with rich spices or meat sauces, or any rich meat with earthy, nutty flavors, is the making of a truly memorable meal. Those of you attending our 8th Anniversary Celebration Wine Dinner on April 16th at the Fort William Henry Hotel will be sipping our Meritage with the night's main course, Beef Osso Buco!
There's something we haven't told anyone yet, and I'm very excited to share it with you now. Mike decided to hold back two barrels of Meritage, which have been aging since 2013! While this premium wine rests in the oak barrels at our wine making facility, it is going through subtle changes that will give it greater complexity in color and body, while also softening its tannins and flavors. It will certainly be interesting to see how this "held back" batch of our Meritage will present itself when ready.
If you haven't purchased a bottle of our Meritage yet, I think you're missing out. Now is a great time to see if you agree with me and the Critics Challenge judges on just how incredible it is!
Comments
Commenting has been turned off.