May 2, 2016 | Adirondack Winery Staff
The Votes Are In...Adirondack Winery is the BEST of Lake George!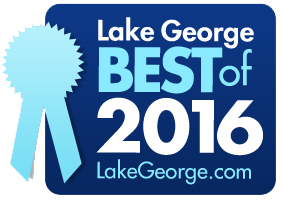 After weeks of voting, the results are in! For the seventh year in a row (that's right...SEVEN ) Adirondack Winery has been voted the BEST Wine, Winery, or Wine List in Lake George! We were also voted second for Best Indoor Attraction – not too shabby when first place went to the Great Escape. Unfortunately, we didn't place for Best Shopping, and the Adirondack Wine & Food Festival was outvoted by Americade and the Adirondack Nationals Car Show, but there's always next year!
Of course we owe an enormous THANK YOU to you and everyone else who voted. We value our customers and their satisfaction above all else. We work hard to deliver an experience and a product that you love, and your response in this poll was nothing short of amazing! You've been with us for eight great years, and we're so excited to spend many more with you! Thank you for voting, thank you for your continued support, and we can't wait to see you soon!
Check out more of the 2016 BEST of Lake George here>>
Comments
Luke

@ May 27, 2016 at 4:45 AM

Nice sharing.. Thanks

Commenting has been turned off.