October 14, 2015 | Adirondack Winery Staff
Who Are You Making Strides For?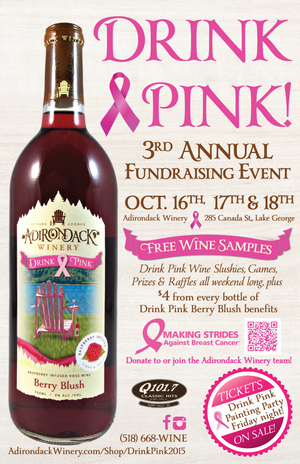 Hi Everyone!
We are well on our way to exceeding our fundraising goals and we are so humbled and grateful for all of the support we have received so far, but there is still more work to do! With our 3rd Annual Drink Pink Fundraising Event approaching this weekend I thought it was a good time to check in and remind everyone why it is so important that we continue to Make Strides Against Breast Cancer.
October has become famously known as Breast Cancer Awareness month and often with mainstream notoriety we can lose sight of what we are really working towards. It is important to connect to this cause and while we continue to Make Strides and raise money, there is still a lot of work to do. Here is why 2 of our Adirondack Winery employees and Making Strides team members participate in Drink Pink each year:
Events Manager, Stephanie Ottino:
"Like so many others, Breast Cancer has affected my own family and loves ones. So each October, I am proud to be a member of the Adirondack Winery fundraising team and to walk alongside the local community in the Making Strides Walk. I walk in remembrance of my grandmother and in support of my aunts (breast cancer survivors!)… in hopes that we will be one step closer to living in a world without Breast Cancer!"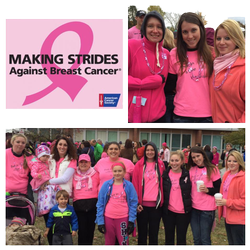 Marketing Coordinator, Danielle Brown
"I have seen breast cancer affect the loved ones of my friends, but have been fortunate enough to have had my own family spared from this terrible disease. Last year, while picking up posters for our Drink Pink Fundraiser, I met a breast cancer survivor. We talked and exchanged information, and she joined the Adirondack Winery team. I walked beside her, along with my daughter, friends and co-workers and witnessed first-hand the result of our fundraising efforts. I am proud to walk in the Making Strides Walk each year for our teammate, and so that my daughter might know a world without breast cancer."
These are just two of so many stories right in our own community. Tell us your story, consider making a donation or joining our team in the Warren County Making Strides Against Breast Cancer Walk, and join us this weekend at our 3rd Annual Drink Pink Fundraising Event; every little bit helps to Make Strides towards a world without breast cancer.
Cheers!
Comments
Commenting has been turned off.