September 23, 2019 | Roberto Cruz
Janet Pratt: Fighting Cancer & Making Strides!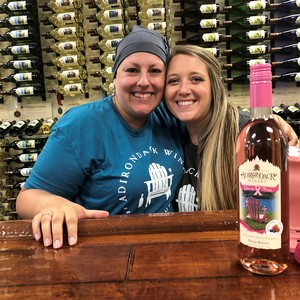 As an adoption and foster care caseworker, Janet Pratt spends most of her days making a difference in the life of children.
A couple of weeks ago, she made a difference in mine.
Janet met with me and the rest of the Adirondack Winery team in early September, to tell us what her life has been like since she was diagnosed with Stage 3A breast cancer on May 24th.
The lifelong Washington County resident is an incredibly strong, brave person who has taken breast cancer head-on and is an inspiration to many in the area - including myself.
Her diagnosis has resulted in lost wages, staggering copays and so many appointments it would make anyone's head spin.
"Your health becomes your full-time job," Pratt said. "It's a lot."
Pratt has a 20-month-old daughter, and she said her treatment made it so she couldn't even lift her young child for several months.
On June 19th, Pratt underwent a bilateral mastectomy with reconstruction and has since begun chemotherapy.
The chemo wipes her out and makes it so she can't even get off the couch sometimes, yet she met us without hesitation at the Lake George Tasting Room, with a smile on her face, ready to share her the story of her fight.
She said she has learned to depend on others and was grateful for the support of her parents and her husband's parents, as well as a co-worker and fellow breast cancer survivor, who was able to provide some insight into what the experience might be like.
And we are so proud to announce that Janet has joined our Making Strides fundraising team this year!
Through our Drink Pink fundraiser this October, we hope to raise more than $8,500 for the American Cancer Society's Making Strides Against Breast Cancer of the Adirondacks!
This incredible organization provides life-saving treatments and services for breast cancer patients right here in our community - services like transportation to and from treatment, hotel stays, a 24/7 cancer helpline and patient navigators to help people recently diagnosed in the Lake George area.
"So many women each day are touched by breast cancer in some way," Pratt said. "Drink Pink is a way to help not only the breast cancer community but also the greater community. The more money raised, the closer we get to researching a possible cure for this terrible disease. Adirondack Winery is a wonderful organization to take on this fight with so many others. Buy a bottle of wine, make a candle, be a part of their team. It's worth your whole."
You can follow Janet's journey and fight against breast cancer by visiting her online CaringBridge personal health journal here.
You can also read about how to join our Making Strides fundraising team and how to support our Drink Pink breast cancer awareness campaign now thru October at adkwinery.com/drinkpink
Comments
Commenting has been turned off.