14th Anniversary Weekend at the Tasting Room
| | |
| --- | --- |
| Date: | Fri, Apr 15, 2022 - Sun, Apr 17, 2022 |
| Time | 11:00 AM to 6:00 PM |
| Venue: | Lake George Tasting Room |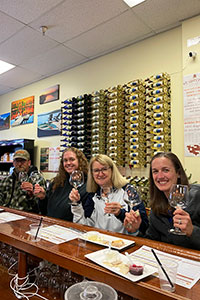 Join us in celebrating Adirondack Winery's 14th Anniversary for a second weekend from Friday, April 15 to Sunday, April 17 at the Lake George Tasting Room!
All weekend long, we're offering a special wine-infused ADK Foodie Plate made with honey lavender goat cheese, champagne cheddar cheese, wine-infused jelly, Saratoga Crackers, Serenity infused truffles, a chocolate lavender macaroon, and gourmet marshmallows. We're also giving you a special sneak peek at some of the new food offerings we plan to have at our brand new Queensbury Tasting Room when it opens later this spring. If you come see us over Anniversary Weekend you'll be the first customers EVER to experience these brand new offerings, including a specialty Macaron Sampler perfectly paired with our wine. The Macaron Sampler comes with champagne, strawberry shortcake, blueberry citrus, and saffron rose macaroons.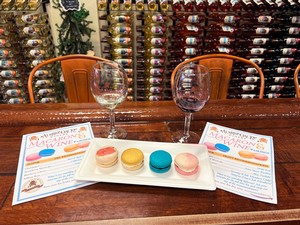 We know that so many of our customers have winery glasses with our old logo on them, or maybe even old wine bottles. If you bring a glass or bottle with our old logo to the Tasting Room during anniversary weekend, you'll get a coupon for a FREE glass of wine at our new Queensbury location as soon as it opens!
To add to the excitement of Anniversary Weekend, our lavender-infused Serenity will be making its return for Club Members on April 8! If you want to make sure you have early access, all you need to do is buy 12 bottles of wine to join our Case Club! Click here to learn more about our Clubs and Subscription.
Go to adkwinery.com/book today to guarantee your spot for Anniversary Weekend and make sure you are part of the celebration!
Can't make it to Lake George that weekend? We'll be offering special anniversary deals online from April 11 to April 17! Make sure to sign up for our Inner Circle Email Newsletter to be the first to know every detail of our 14th Anniversary celebration!
Follow our socials to stay up to date on all things ADK!