Golden Ticket Giveaway!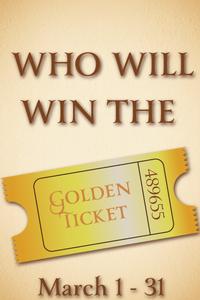 Bring home the GOLDEN TICKET!
Customers who purchase a full CASE of wine this month have a chance to receive a GOLDEN TICKET with their order!
Those who receive a Golden Ticket can take a photo with it (and their case of wine) and share it on social media using #adkwinery for a chance to win an AMAZING prize!
Anyone who shares a photo (either on social or email it to marketing@adirondackwinery.com) will be entered for a chance at our grand prize: a FREE VIP wine tasting experience AND Gold Club for a year! (Drawing on or about April 1st.)
Gold Club Members get the best bottle deals, free gifts during Club Week, one free bottle of wine each month with a 6+ bottle order, free wine tastings & so much more! (Already a Gold Club Member? You can GIFT your prize if you win and then you and your lucky recipient can enjoy wine tastings and Gold Club perks together!)
There will only be a few golden tickets, which means a greater chance of winning the Gold Club Membership upgrade. Just buy a case of wine and you have a shot to win!
Don't forget to follow us on social media to stay up to date with all things ADK Winery.