November 4, 2019 | Sasha Pardy
WE DID IT! $10,700+ Raised for Making Strides! Raffle Basket Winners Announced Too!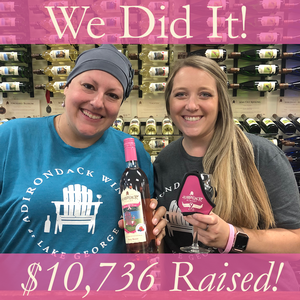 After a month of fundraising, and a response that's still hard to believe, we are SO THRILLED to announce this year's Drink Pink campaign was our most successful yet, with $10,736 raised for Making Strides Against Breast Cancer of the Adirondacks!
That's over $2,200 MORE than our goal when we set out on this year's campaign - and we couldn't have done it without you! With your help, we donated $4 each for 1,116 bottles of our Drink Pink Berry Breeze, a special version of our popular mixed berry infused rose, which this year featured a special pink camp donated by Waterloo Container.
We also donated $5 for every Ultimate Wine Tasting for 2 we sold in October, 25% of pink accessory sales and $10 for every ticket we sold to our Uncork & Craft wine and crafting nights at the Lake George Tasting Room. The response was INCREDIBLE!
Beyond our pink products, you all donated nearly $1,300 in strictly donation cards and donations to the team's Making Strides fundraising campaign. WOW!
We would also like to congratulate our raffle basket winners:
Lake George Getaway: Renee Smith
Bolton Landing Getaway: Stacy Betler
Family Getaway: Rose Ann Eddy
Lake George Wine Basket: Cathy Sweet
Bolton Landing Wine Basket: Deborah Comacho
These incredible raffle baskets we were made possible thanks to the generosity of our sponsors, who really rallied behind the cause and were able to help us create our biggest and best raffle baskets yet - 5 in total, worth $2,000!
These sponsors include Lake George's most popular stores and attractions, such as: Lake George Steamboat Company, Fort William Henry Hotel & Conference Center, Adirondack Pub & Brewery, The Huddle Kitchen & Bar, Pirate's Cove Mini-Golf, Creations by DM, the Log Jam Restaurant, Holiday Inn Lake George, Lake George Distilling Co., Serendipity Boutique, Adirondack Extreme, Barkeater Chocolates, Country Inn & Suites Queensbury, The Fun Spot, Lake George Olive Oil Co., Adirondack Life Magazine, Martha's Dandee Creme, Waterfront Living, & Making Strides Against Breast Cancer! A special shoutout to Grandstand Merchandise for helping us out with our new Drink Pink T-shirts and Wax 'n' Wix of Lake George who helped us put on our Wine Glass Candle Making events this year!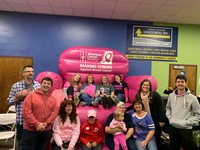 This year's campaign culminated in the Making Strides 3K on Sunday, Oct. 27th in Glens Falls. Despite poor weather, the community showed up in droves, and we were able to meet such incredible and inspiring people, like local resident Stephanie Bars, who was diagnosed earlier this year and has fought back thanks to the support of her family, friends and the breast cancer community.
Adirondack Winery is so proud of our team and proud to support an amazing organization like Making Strides Against Breast Cancer. The funds we raised together will be used to support breast cancer research, transportation to and from chemotherapy, a live 24/7 cancer helpline and so much more. You can read more about their mission here.
We hope you will join us next year as we continue our campaign to help make cancer a problem of the past. Our 8th Annual Drink Pink Breast Cancer fundraiser will kick off in mid-September!
From the bottom of our hearts, thank you to everyone who helped make this year's Drink Pink fundraiser the most successful yet! See you next year when we raise the bar even more and do everything we can to help this amazing community fight toward a world without breast cancer!
Comments
Commenting has been turned off.