Beef Bourguignon / Beef Burgundy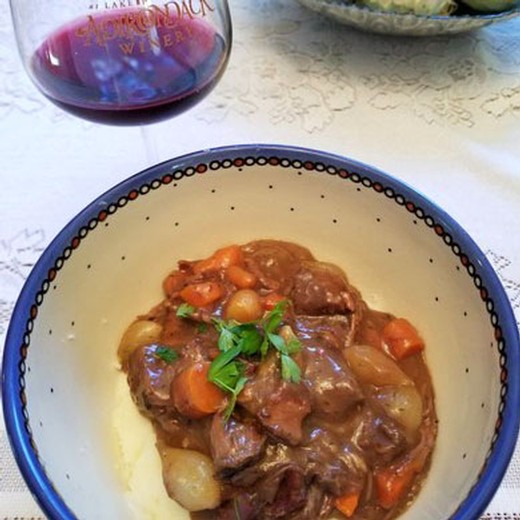 Recipe Date:
December 29, 2017
Measurements:
Imperial (US)
This dish will fill the house with an aroma of a delicious comforting weekend dinner. As good as this is around the house it is even better on a cool Autumn day sitting around a campfire and just as easy to make at the camp ground.
Ingredients
1 lb thick cut Bacon, cut into 1in. strips
2 tbsps Olive Oil
1 large Onion, chopped
1 clove Garlic, smashed
3 tbsps Flour
1/2 tsp Salt
1/4 tsp Ground Pepper
2 lbs Top Round Steak, cut into 1in. cubes
1 tsp dried Rosemary
1 tsp dried Thyme
2 Bay Leaves
2 1/2 cups Pinot Noir (or your favorite dry red wine)
2 cups Beef Broth
20 Pearl Onions
2 cups Tri-Colored Carrots
1 lb White Button Mushrooms, quartered
Directions
Over medium heat in a pot add your olive oil and strips of bacon. While letting the bacon cook season your cubed meat with salt and pepper and set aside. When crisp and golden, remove and drain on a paper towel-lined plate.
Then add the chopped onions and smashed garlic to the pot, and slowly cook them to a light golden brown. Remove and set aside.
Next drain off about half of the remaining grease then place back on the burner and brown your cubed beef, a few pieces at a time, into the pot. Continue to add the beef cubes until all are browned then sprinkle 3 Tbsp of flour over the beef in the pot and mix thoroughly.
Next, add the herbs and beef broth into the pot and bring to a boil.
Next divide your wine into 2 separate glasses, one with 2 cups and another with 1/2 cup. We prefer Adirondack Winery's smooth and delicious Pinot Noir NY due to its medium-bodied presence and having an amazing flavor profile of dark berries complemented by light oak notes.
We also think one should keep to buying local products whenever they can. Which we enjoy doing with New York State Wines due to the vast selection and amazing quality these wines offer.
Add 2 cups of wine along with returning the bacon, onions, and garlic to the pot. Reduce heat, cover and let simmer for 1½ hours.
Then partake in the 1/2 cup of remaining Pinot Noir as you wait for the flavors to meld together.
Add the pearl onions, carrots, and mushrooms to the pot and cook for about 20 more minutes or until the pearl onions and carrots are fork-tender.
Your Beef Burgundy is done!
But not your meal, there are a few different ways to serve this dish up. You could go with a classic style of getting a french loaf of bread and serving the stew over it or just have the bread on the side. You could cook up egg noodles and serve the stew over the top of them as many recipes call for.
Or if you want a real hearty, soul-touching dish make up a batch of mashed potatoes like we suggest you do. Just make sure your mashed potatoes are not so smooth that they can't hold up to this stew.
Recipe originally posted on Our Camping Dreams