Butternut Squash & Apple Bisque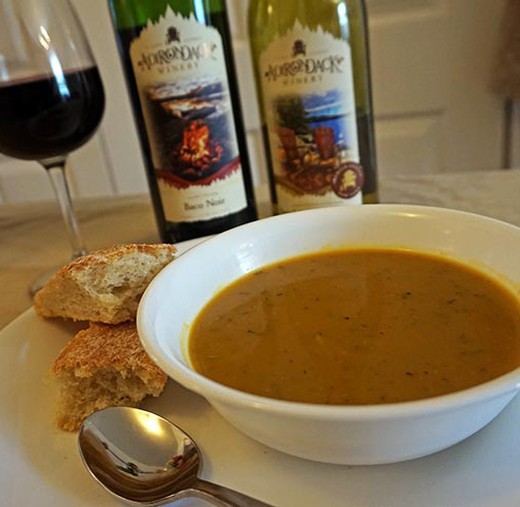 Recipe Date:
November 17, 2016
Measurements:
Imperial (US)
This delicious butternut squash soup is made with Adirondack Winery Barrel Aged Chardonnay.
Ingredients
1 cup Barrel Aged Chardonnay
4 lbs Butternut Squash (peeled & cubed)
4 tbsps Olive Oil
2 tsps Curry Powder
2 tsps Thyme (divided)
2 tsps Rosemary (divided)
4 Cloves of Garlic (minced)
1 Large Apple
1 Large Onion
4 cups Turkey Stock
1/2 cup Heavy Cream (optional)
Fresh Nutmeg
Salt
Pepper
Directions
Preheat oven to 400 degrees.
Peel and cube squash. In a large bowl, toss squash cubes with 2 tbs. of olive oil, 1 tsp curry powder, 1 tsp thyme, 1 tsp rosemary. Bake in a 9x13 glass dish, for 25 minutes, stirring 2-3 times during baking.
Dice onion, peel, core and slice apple, mince garlic cloves. Heat remaining olive oil in a heavy bottomed soup pot over medium to medium-high heat. Sauté onion and apple until they are soft - about 7-10 minutes. Add garlic and sauté for an additional 1-2 minutes, then add 3-4 cups of stock and 1 cup of Barrel Aged Chardonnay. Bring to a simmer.
When squash is finished in the oven (it should be soft, but not crispy) add it to the simmering soup, and let cook for 5 minutes. Make sure the level of liquid is just covering the squash. Be careful not to add too much stock - you want your bisque to be thick!
Using a countertop or immersion blender, puree the soup until it is very smooth and there are no lumps left. This may take up to 3 minutes to ensure a velvety smooth texture. If soup is too thick, you may add more stock to thin as you puree. Return soup back to the pot and bring to a simmer. Add salt and pepper, a few shavings of fresh grated nutmeg (or a pinch of powdered nutmeg) to taste. Add cream if desired. Allow to simmer for about 5-10 minutes then remove from heat.