Double Dark Chocolate Merlot Cookies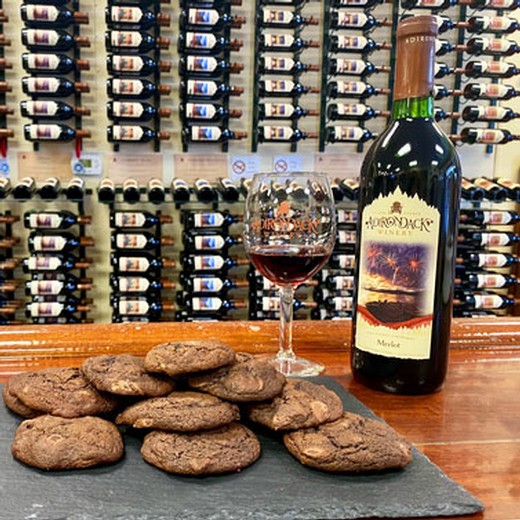 Recipe Date:
March 4, 2021
Measurements:
Imperial (US)
Everyone knows chocolate and wine make the perfect pair, and these double dark chocolate Merlot cookies prove it! Luscious dark chocolate and smooth red wine balance each other out and create some of the greatest wine cookies we've ever tasted! Try them alongside a tall glass of wine... we promise it makes them taste even better.
Ingredients
1 1/2 cups unbleached, all-purpose flour
3/4 cup special dark cocoa powder
1 tsp baking soda
1 stick unsalted butter, softened
3/4 cup granulated sugar
3/4 cup dark brown sugar, packed
1 large egg
3/4 tsp pure vanilla extract
1/2 cup Merlot
1 bag Ghirardelli 60% cacao bittersweet chocolate chips
1 tsp kosher salt
Directions
1. Preheat over to 350 degrees.
2. In a mixing bowl, combine the flour, cocoa, salt and bakind soda. Whisk and set aside.
3. Cream together the sugars and butter using a mixer until light and fluffy.
4. Add in the egg, vanilla extract and Merlot. Once combined, gradually add in the dry ingredients, and mix well after each addition.
5. Fold in chocolate chips by hand and spoon out a rounded tablespoon into a prepared baking pan, leaving two inches or so in between.
6. Bake for 8-10 minutes. Let cool slightly before enjoying.