Goat Cheese Croque Monsieur Roll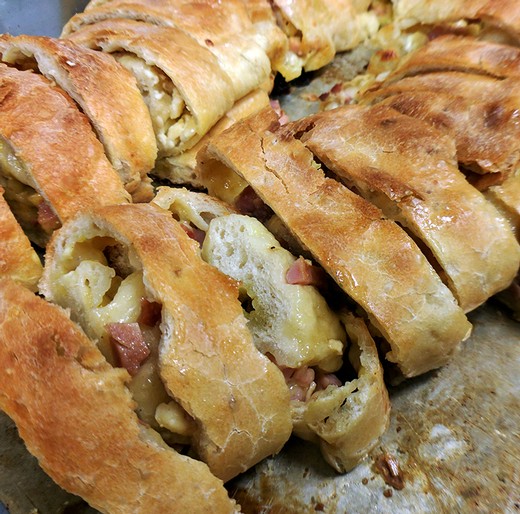 Recipe Date:
June 1, 2017
Measurements:
Imperial (US)
We first made this recipe for our Wine 101: Wine & Cheese Pairing back in January and haven't stopped thinking about it since!
Ingredients
8 ozs Nettle Meadow Cheese Farm's Kunik
1 lb Canadian Bacon or Hamsteak (¼ thick)
2 Eggs
1 lb Pizza Dough
2 tbsps Dijon Mustard
Butter
Directions
Cook ham in butter until warm and slightly browned. Chop into small pieces.
Separate egg yolks and egg whites.
Mix chopped ham with cheese. Mix in 2 egg whites and 1 egg yolk.
Preheat oven to 350 degrees.
On a greased baking sheet, roll dough into a rectangle, as large as you can make it without tearing holes. Brush with Dijon mustard. Spread the ham mixture on the surface, leaving a 1-inch border.
Roll the dough and pinch the edges shut. Place seam-side-down on the baking sheet (Holes in the dough are okay, they'll close as the bread bakes). Brush the top of the loaf with beaten egg yolk.
Bake for 45 minutes or until golden brown. Slice when cool. Serve with honey mustard and enjoy!
We like this recipe best paired with Cabernet Sauvignon or Barrel Aged Chardonnay. Cheers!