Grown Up Candy Apples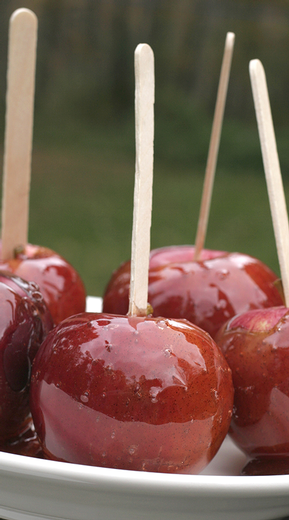 Recipe Date:
November 16, 2015
Measurements:
Imperial (US)
Ingredients
8 small apples, stemmed, washed well, and dried
1 1/2 cups red wine (we recommend Pinot Noir or Red Carriage)
2 cups sugar
1/2 cup water
6 tbsps heavy cream
Directions
Recipe adapted from Epicurious recipe for Red Wine Caramel Apples.
Equipment Needed: 8 wooden ice-pop sticks & a candy thermometer.
1. Line a tray with wax paper and lightly grease paper.
2. Insert a wooden stick halfway into each apple at stem end.
3. Boil wine in a small saucepan over medium heat until reduced to 1/2 cup (8-10 minutes) then remove from heat.
4. Bring sugar and water to a boil in a heavy saucepan over medium heat, stirring until sugar has desolved, then wash down any sugar crystals from the side of the pan with a pastry brush dipped in cold water. Boil, without stirring, swirling pan occasionally so caramel colors evenly, until dark amber.
5. Add the reduced wine to the saucepan (mixture will bubble up and steam) and swirl pan.
6. Add cream and simmer, stirring until incorporated, then continue to simmmer until thermometer reads 238 degrees F. Remove from heat and cool to 200 degrees F.
7. Holding apples by the sticks, dip them in caramel mixture and swirl to coat, letting excess drip off, then hold the apples stick end down for approximately 15 seconds to allow the caramel to set on the apple. Place the apples stick side up on the greased wax paper and let stand until caramel hardens, approximately 30 minutes.