Wine Infused Stuffing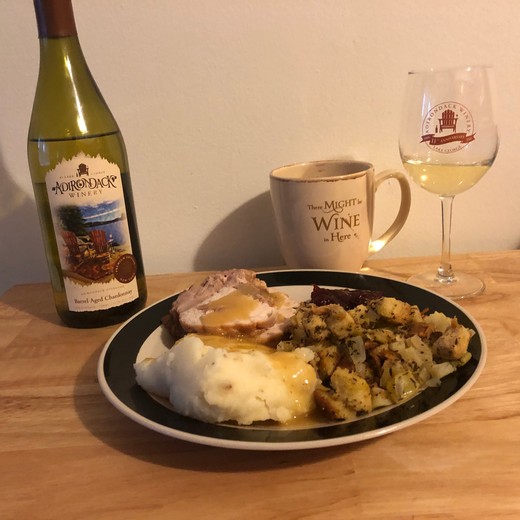 Recipe Date:
November 3, 2020
Measurements:
Imperial (US)
This recipe calls for 1/4 cup of your favorite dry white wine! We used Adirondack Winery Barrel Aged Chardonnay for its buttery flavor!
Ingredients
2 lbs Country Style Bread
4 tbsps Olive Oil
4 Stalks Celery
1 Fennel Bulb
2 Large Onions
1/4 cup Adirondack Winery Barrel Aged Chardonnay
2 Sticks Salted Butter
4 tbsps Parsley, Sage Rosemary & Thyme
2 Large Eggs
2 1/4 cups Low Sodium Chicken Broth
Directions
Cut bread into cubes and roast in over at 250 degrees Fahrenheit for 1 hour.
Sauté celery, fennel and onions in in olive oil on low to medium heat for about 10 minutes.
Add wine and continue cooking until all the wine is evaporated.
Add butter and cook until it melts.
Drizzle over bread.
Add spices.
Blend eggs and chicken broth and combine into stuffing mixture.
Spread into a large baking sheet (or two).
Bake in the oven at 350 degrees Fahrenheit for another 30 minutes.
Enjoy!