Drink Pink is BACK - and this year, there are more ways than ever before to help us support an incredible organization near and dear to our hearts - the American Cancer Society's Making Strides Against Breast Cancer of the Adirondacks!
Whether you join our Making Strides fundraising team, come craft and drink wine with us, or bring home bottles of our Drink Pink Berry Breeze & cool pink wine accessories, you can help us beat our fundraising goal ahead of this year's walk - and have fun while doing it!
Plus, every dollar donated to our fundraiser will help Making Strides provide life-saving services, like trips to and from treatment, innovative research, and free information and support so that we can help our community catch and treat breast cancer early on!
Help us reach our goal of $8,500+! Here's How:
---
DRINK PINK WITH US!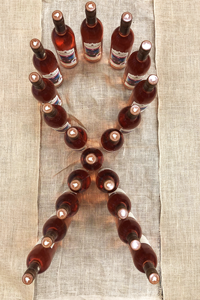 We sell a specially labeled wine for Drink Pink and for every bottle sold, we will donate $4 to Making Strides Against Breast Cancer of the Adirondacks.
Find our delightfully sweet "Drink Pink Berry Breeze", a Mixed Berry Infused Blush Wine, at our Tasting Rooms or online and help sip wine for a great cause.
*This wine will be available online and in our Tasting Rooms starting September 17th.
---
RALLY WITH US!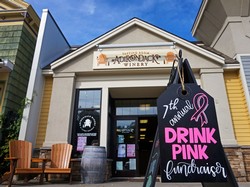 This year, every weekend is a Drink Pink Weekend at our Tasting Rooms!
Join us Friday thru Monday for a FREE Drink Pink Wine Cocktail and $5 Pink Wine Slushies all weekend long!
Plus, we'll have games & prizes, including our Wine Bottle Ring Toss, Giant Jenga, Spin the Prize Wheel, Guess the Corks & more!
You can also order a special "pink-themed" Ultimate Wine Tasting for Two starting September 17th (for use during the month of October). Check back soon for more info.
---
Drink Pink Uncork & Craft Parties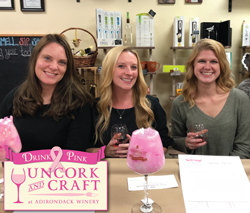 Our Tasting Rooms will be buzzing on Friday nights in October with our special pink-themed Uncork & Craft parties - $10 for every ticket sold donated to Making Strides!
Our schedule of events this year includes:
Click here for additional information and to find out everything included with your tickets!
---
TAKE A CHANCE WITH US

Last year, we donated $1,500 to Making Strides thanks to your support and purchase of our raffle tickets!
This year, we are hoping to sell even more - and we hope to pack the baskets with even cooler prizes!
Check back soon to find out what's inside and to get your tickets!
Tickets will be available for purchase online and in our Tasting Rooms starting October 1st.
---

SHOP WITH US
We sell many unique Drink Pink-themed wine accessories and gifts at our Tasting Rooms and online throughout October - and a portion of each sale is donated to Making Strides! Check our Cool Wine Stuff shop soon to browse our products and to get some sweet accessories, while supporting an even better cause!
---

Every year, our staff, customers, friends and family rally around this amazing cause - and you can join us in making a difference too!
Click here to join our Making Strides fundraising team or to donate anything you can to our team. Every dollar gets us closer to our goal of raising $8,500 for critical breast cancer services and programs in our community!
You are also welcome to walk with us in the Making Strides 3K on Sunday, October 27th at Cool Insuring Arena in Glens Falls. It's an easy walk around the downtown area that starts at 12pm but we will be there early at 10am to get the crowd pumped! (Walking is optional.)
Even if you can't walk with us, you can Join our Team and ask friends and family to particpate by donating to our team page and learning about all of our Drink Pink efforts!
This cause is so close to so many of our employees, customers and their families - we hope you decide to join us and pledge our support to one day rid the world of breast cancer once and for all!
---
#AdkWineryDrinkPink
Thank You for helping us spread the word! Cheers from The Adirondack Winery Team!