Join the Adirondack Winery Team!
Our Mission Statement:
At Adirondack Winery, our mission as a small, family-owned business is to provide our customers with delicious, award-winning, quality wines that are all hand-crafted locally. We provide an unparalleled selection of wines with something to satisfy every palate, from unique, fruit-infused wines to traditional white and red varietals and more! Our ultimate goal is for Adirondack Winery customers to hold us close to their hearts as the best, most memorable winery they have ever crossed paths with.
Note from Sasha, Co-Owner & President:
"My husband Mike & I opened Adirondack Winery in the heart of Lake George Village in April 2008. With a continuous mind for growth and improvement, I am proud to say that today, Adirondack Winery is a 15,000-case winery with a loyal and expanding base of widespread customers that love our winery. Our Tasting Room is recognized as a top attraction in the region, our wines are award winning, and we have a presence in nearly 400 wine stores across Upstate New York. Additionally, we put on the Adirondack Wine and Food Festival every year. Year after year we have been growing thanks to a smart and dedicated staff and enthusiastic customers. There's more in the works for Adirondack Winery and we're looking for team members that want to play an important part in our growth and excitement."
We are looking to expand our team! Adirondack Winery currently has positions open in multiple departments.
If you are interested in one of the positions below, please email us here>> and include your resume and cover letter describing why you would be a good fit, specifically for our position. *Please be advised that you must be Age 21 or older for all positions.
---
Bookkeeper
Adirondack Winery is a small family business with several departments, including Wine Production, Retail Sales, Events, E commerce, and Wholesale. We are also the organizer of the Adirondack Wine & Food Festival (Adirondack Festivals LLC). The Job Responsibilities of this bookkeeping position are varied and touch all facets of our business. Duties include, but are not limited to:
Bookkeeping - Under the direction of the CEO, complete day-to-day accounting tasks using Quickbooks, including accounts receivable & payable, reconciling accounts, bank deposits, financial data entry, etc.
Financial Tracking and Reporting - Manage tracking, reporting and analysis of expenses, sales, budgets, costs, inventories, shipping and more for all departments.
Customer Record Management - Maintaining Case Club & Wine Club customer purchasing activities, tracks visits and club benefits fulfillment.
Vin65 Ecommerce Website & POS - Managing products, inventories, discounts, reporting, etc. We will train on this unique system.
Human Resources - coordination of employee records, updating employee training modules and policies, communicating with payroll, 401K and healthcare insurance providers on behalf of the company.
Inventory - Tracking & Maintaining Inventories, Inventory depletion reporting, assistance with ordering from vendors, etc.
Preferred candidate holds 5 years of experience in bookkeeping / accounting duties and is very strong in Quickbooks and Microsoft Excel (lesser experience may be considered for the right candidate). Intermediate experience in Microsoft Word and Outlook preferred. Must have excellent attention to detail, organization skills, be efficient, learn quickly and be a team player.
Adirondack Winery's head office is a casual, small family business setting. We welcome members to our team that are enthusiastic, dedicated and trustworthy. We are a fast-growing company with opportunity for future advancement for smart, hard-working employees.
This position reports to work at our office at 395 Big Bay Road, Queensbury . Preferred work schedule is Monday through Friday, however, flexibility may be possible.
This is a Full Time, Year-Round, Salaried position that provides Medical, Dental, Vision, 401K, PTO Time, and other benefits; including Wine Perks!
Please apply with your resume AND cover letter via email only explaining why this specific position at our company seems like it would be a good fit for you. Applicants are encouraged to research our company before applying. Applicants who do not adhere to the application requirements will not be considered.
---
Tasting Room Sales Associates - Lake George & Bolton Landing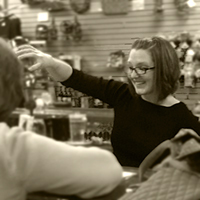 Adirondack Winery's Tasting Room Sales Associates act as the primary face of Adirondack Winery to the public. Our Tasting Room Sales Associates must deliver our customers excellent customer service and convey their knowledge of our wines, products and services to customers and generate sales by conducting wine tastings and completing retail transactions. Tasting Room associates must convey a professional but fun, entertaining, knowledgeable, neat and trustworthy persona to customers, while encouraging sales.

Adirondack Winery is a small, family-owned company that has fun while serving customers from all walks of life an enjoyable wine tasting experience and giving them a piece of the Adirondacks to take home with them. We are proud to be ranked as one of the Top Rated "Attractions" in Lake George -- it's only because of the great experience our Tasting Room Sales Associates consistently deliver our customers.

The primary function of a Tasting Room Associate is to serve our customers wine at the tasting bar, while delivering an excellent customer experience which results in sales. Our associates act as the primary face of Adirondack Winery to the public. Our staff must convey their knowledge of our wines, products and services, be professional but fun, neat and trustworthy, and encourage guests to 'take us home' via wine & accessory sales.

Other potential job duties include cashiering, responsible money handling, stocking, opening & closing store, inventory, preparing food samples, preparing gift baskets, processing shipping orders, keeping the tasting room neat and clean, and assisting the Store Manager with certain other duties.

The ideal candidate has excellent customer service skills, is trustworthy, outgoing, energetic, and a multi-tasker. Basic knowledge of wine and retail or bar/restaurant experience with an outgoing and friendly manner is helpful and desirable. Tasting Room Associates report directly to the Store Manager.

Work Location: 285 Canada Street, Lake George and/or 4971 Lake Shore Drive, Bolton Landing. However, working as a Tasting Associate at occasional off-site events the winery participates is also an opportunity. Reliable Transportation is a must.

Work Schedule: Part Time. 15 to 30 hrs. per week, although 40 hrs per week may be available in the summer. At least one weekend day, especially over holiday weekends, is minimally required. Multiple positions available. Our tasting room is open year round; long-term positions are available for the right people.

You must be able to work on your feet for several hours and lift 40+ pounds. Must be 21 or older.
How to Apply
Email us at IWantToWorkFor@AdirondackWinery.com explaining your level of interest and why you think you would be a great fit for this position. Please attach your resume, supply a cover letter of interest and include a summary of your availability. Thank you!
---
Off-Site Event Sales Associate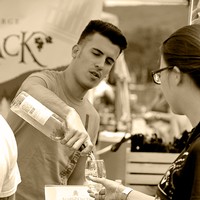 Have you ever been to a wine festival? Where you have lots of fun with friends on a weekend, tasting & buying wines from several wineries all gathered in one place; filled with people enjoying wine, food and music too?! Ever wonder what it's like to get to work at one of them? Here's your chance! You can be behind the table at a wine festival representing Adirondack Winery!
Adirondack Winery is seeking an outgoing, energetic, reliable, trustworthy person, looking for an exciting weekend job that has a passion for wine, people, fun, events & Made-in-NY products! You don't have to be a wine expert, we just hope you enjoy it yourself and have a little bit of knowledge - we'll teach you the rest! A great opportunity for anyone interested in the wine and/or event industry!
What would you be doing? Assisting our Events Manager in traveling to and setting up/breaking down our table/booth/ tent at our off-site events; pouring samples of wine to event attendees; talking knowledgably about the winery, tasting room and wines; checking out wine sales; helping Events Manager account for inventory, sales, etc. Our events vary from large state-wide wine festivals and fairs to smaller wine tastings at charity events or local liquor stores. Every event is different, fun and never boring!
There is also room for advancement & the opportunity to become an "Event Lead".
Work Schedule – All off-site wine tasting events typically take place on the weekend. Typically a Saturday and/or Sunday, sometimes a Friday Night. Overnight stays to great locations throughout New York State are sometimes involved (travel & hotel stays arranged by Adirondack Winery). Hours for events can range from 4-12 hours per day depending on the event.
Interested? Please apply! Please note that the majority of the events require working and/or traveling on weekends. We do plan to hire more than one Off-Site Associate, so some weekends may be flexible, but working weekends is a must.
Job Requirements
Must be Age 21+
Previous experience in retail, customer service, hospitality, or the restaurant/bartending industry is preferred, but is not required.
A "thirst" to learn more about and enjoy Adirondack Winery wine. Prior wine knowledge a plus, but not required.
Must be able to stand on your feet for entire shifts and comfortably lift multiple cases of wine (a case is approx. 35lbs) to load and unload for events
Reliable transportation and a clean driving record are a must.
How to Apply
Email us at IWantToWorkFor@AdirondackWinery.com explaining your level of interest and why you think you would be a great fit for this position. Please attach your resume, supply a cover letter of interest and include a summary of your availability. Thank you!