Join us as we "Cheers to the Years" and celebrate our 11th anniversary with events and activities all weekend long!
---

It's been more than a decade since Mike and Sasha Pardy celebrated their grand opening of Adirondack Winery in Lake George. Eleven years later, the winery is bigger and better than ever, and we'd like to invite you to come help us celebrate another successful year in the books!
Join us for our centerpiece of the weekend's festivities - an amazing five-course wine dinner that is both infused with and paired with your favorite Adirondack Winery wines! Our 11th Anniversary Wine Dinner takes place on Saturday, April 13, 2019 at Fort William Henry in Lake George.
Plus, make the most of your weekend with us with events at our Lake George Tasting Room, wine-infused food and drinks at the Fort William Henry, and so much more in between!
Tickets for the dinner are on sale now! Buy today for the lowest prices -- and the best value! Scroll down for the complete menu and bring an appetite; each delicious dish in this five-course feast is prepared with and paired with your favorite Adirondack Winery wines (Approx 3 oz per course. Special dietary accomodations are available upon request).
Plus, there will be games and exclusive giveaways all night long, a sample of a new wine we're rolling out for the occasion and a FREE complimentary glass of wine for Gold Club members! There will also be a special guest appearance by Mark & Eva Lampron, owners of Eagle Ridge Farms, who will be serving up specialty appetizers during the cocktail hour! Click here for complete details to buy your tickets.>>

2019 Dinner Menu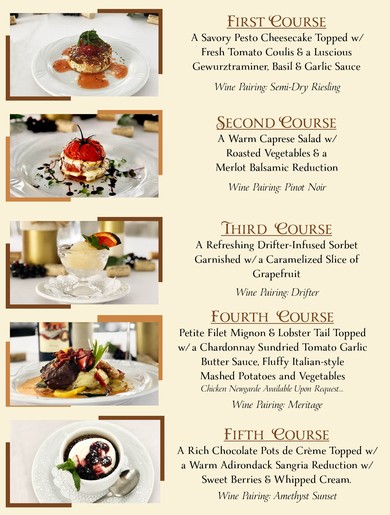 P.S.: Going to the party? You can order wine ahead of time at in-store prices and we'll bring it to the party for you for pickup! Call 518-668-9463 today to place your order! Gold Club members save up to 25% off wine and Case Club save up to 20% wine with this special promotion. Call and ask about it today and click here to review your discounts...
---
Take a look over the last eleven years with us in our Cheers to the Years Blog>>>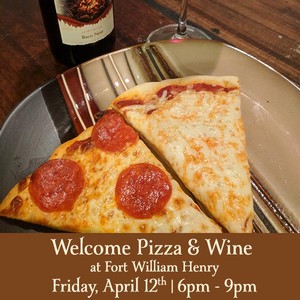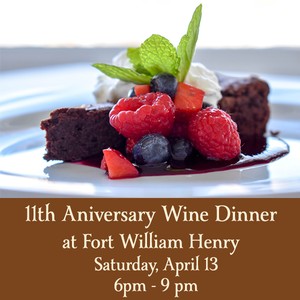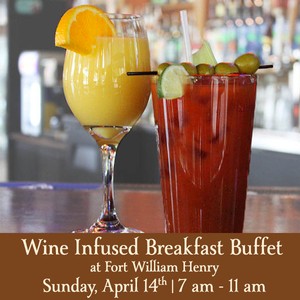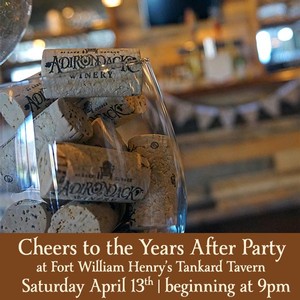 Make a weekend out of it with a special room rate just for Adirondack Winery 11th Anniversary attendees!
The Fort William Henry offers upscale lodging accommodations with the perfect mix of historical elegance and today's conveniences. From the traditional grace of the Grand Hotel to the comfort of the Premium East and Standard West rooms, all of their accommodations enjoy access to extensive amenities, including an indoor pool with sauna and Jacuzzi, an Olympic-size outdoor pool, and three restaurants, all on resort grounds.