PARTY PACKAGES TO GO!
Let's face it - we all need a good party right now and in a time of social distancing a real celebration might not be in the cards anytime soon.
Our solution? Party Packages To Go! Whether you're planning a Bachelorette Party or Bridal Shower, or celebrating a Birthday or Anniversary, Adirondack Winery has some of the best party supplies for you and your friends to celebrate - no matter if you're celebrating together or apart!
Party Package To Go Items also include our special "Wine Party Packet"; complete with 4 fun wine cocktail recipes and wine tasting sheets so that you and your friends can sample and rate the multiple wines you buy for your party!
---
SUGGESTED PARTY SUPPLIES

Give your best friend something personal AND fun with one of our Personalized Wine Bottles! We can write something sweet, something personal or you can draw something meaningful for your friend too! We offer three wine options for our Personalized Bottles - Berry Breeze, Semi-Dry Riesling & Pinot Noir.
Pair the Personalized Wine Bottles with the "I Said Yes" or "This Is My Birthday Drinking Cup" found below for a great gift under $50!
Write your message in the notes section or give us a call at 518-668-9463 and we'll take your order over the phone!
Click here to shop our full selection of Personalized Wines
---

Stainless Steel Bachelorette & Birthday Party Cups
A great back up plan for a cancelled bachelorette trip! Have a virtual happy hour with all of your friends and drop one of our Stainless Steel Bachelorette Party Cups off at their doorstep with a bottle of ADK Wine! It'll be a hit and you'll all have so much fun!
We have Stainless Steel Sippy Cups with the following sayings:
"I Said Yes" | "We Said Wine" | "This Is My Birthday Drinking Cup"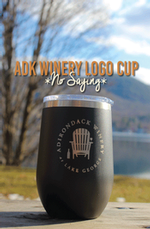 ADK Winery Logo Cup (this option has no saying)
Limited colors available for shipping online, but you can call our Lake George Tasting Room to place a pickup order and choose from our full selection of colors.
Call 518-203-2597 for more information.
Sippy cups subject to $15 shipping charge, or free curbside pickup!
Click here to see more of our Cool Wine Stuff wine gifts & accessories
---

Our wine slushies are known throughout the Lake George region and by everyone who's visited during the summer - and you can make them at home with this amazing all-natural wine slush mix!
Flavors like our Citrus Sangria, Original Frose and Strawberry Basil Lemonade are available online or you can call our Lake George Tasting Room for our full selection!
Scroll to the bottom of this page or give us a call at 518-203-2597 to have a Tasting Room associate help you build a Party Package to go!
---
Well, this one is a little obvious - everyone knows you can't have a good party without good wine! Adirondack Winery has 30+ wines from fruity and sweet wines to dry and traditional varietals. We have something for every kind of wine drinker!
No matter what you're celebrating you know all of your friends will enjoy a bottle of ADK Wine and getting ADK Wine has never been so easy AND affordable! So order a case or two and drop a bottle off at all of your friends houses for a social distancing happy hour. Everyone will love it!
Want to add a few of these items to your cart and you'd rather talk to someone over the phone? Give us a call at 518-668-9463!
Limited-Time Special: Non-Club Members save $5 on 4-5 btls, $10 on 6-11 btls & $25 on 12+ btls
Club Members get even deeper discounts! Add to cart to see sale price.