October 11, 2023 | Rachel Rumpf
🍂Top 10 Reasons to Visit This Fall!🍂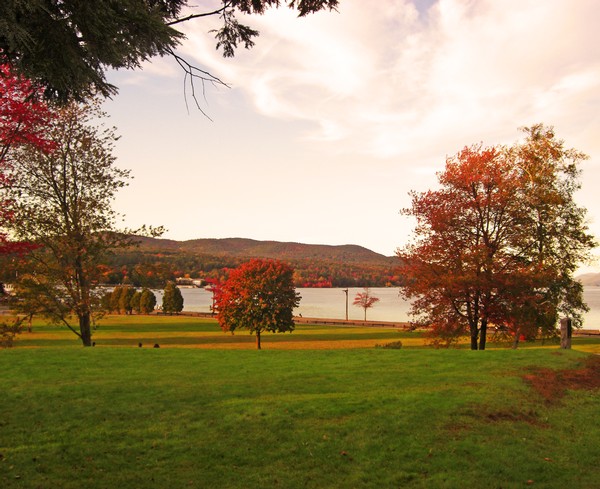 Make us one of your weekend stops, while chasing the leaves this fall! We have all of the cozy vibes for you and your whole crew! Shop our large selection of wines like our Limited Edition Holiday Wines; Home Sweet Home & Red Carriage, support our 11th Annual Drink Pink Fundraiser for Making Strides, sip on a delicious fall-themed cocktail, or warm up by our firepits on our patio! We have so much to offer you this fall season!
---

Shop our Limited Edition Holiday Wines; Home Sweet Home & Red Carriage! Home Sweet Home is just a unique and delicious as it sounds! Nothing warms you up better on a crisp autumn day like our apple pie-infused white wine Home Sweet Home! The cinnamon and apple flavors stand out and are really what make Home Sweet Home taste like homemade apple pie in a glass! Red Carriage is a semi-sweet, light-bodied wine that is crisp, offering notes of fresh cranberries harmoniously blended with robust wine, balanced nicely with acidity and light tannins.

---

There are so many ways to get involved at our Tasting Room and help us reach our $20,000 goal by purchasing your favorite wines & accessories this year! Every dollar donated to our fundraiser will help Making Strides provide life-saving services, like trips to and from treatment, innovative research, and free information and support so that we can help our community catch and treat breast cancer early on!

---

Try one of our amazing fall cocktails on our menu at our Queensbury Tasting Room! All of our cocktails feature our wines and spirits from distilleries all across New York State! Our Fall Cocktail Flight contains Meet Me at Twilight, Pumpkin Spiced Mule, Autumn Sangria, and Drink Pink 'N Peachy! We have many more cocktails to choose from including mimosas!

---

Gather up your friends to enjoy a night outside on our patio at our Queensbury Tasting Room seated in our spacious Adirondack chairs with a fire pit all to yourselves! Start the evening with a "Cheers" Welcome pour of our featured sparkling wine, and follow that with an impressive Charcuterie Board meal (built to satisfy your entire party) featuring locally sourced gourmet bread, cheese, crackers, chocolate, jams, fruit, and more for you all to share! Your guests may add on pours of our wines, cocktails, dessert, and more on our patio!

---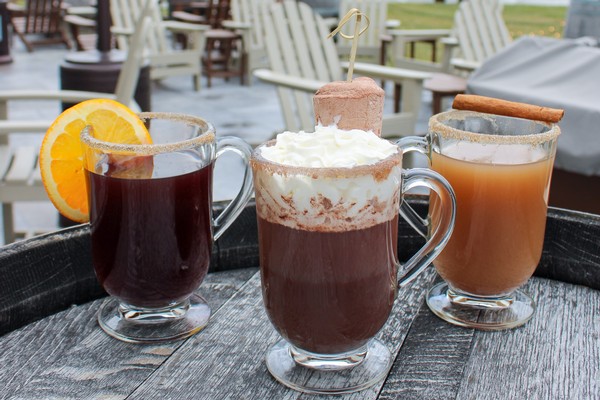 Come warm up with one of our warm wine cocktails at either of our Tasting Rooms! Choose from a Mulled Spiced Wine, Apple Toddy or Spiked Hot Chocolate made from Barkeater Chocolates Hot Cocoa mix! We have something for everyone to warm up this season, with non-alcoholic options also available!

---

Make yourself right at Home in the warm and welcoming haven of our Queensbury Tasting Room, where the spirit of apple pie reigns supreme! This experience includes:
An Apple Pie Flight:
An Apple Pie Harvest Flatbread:
🍷 Home Sweet Home Jelly (our Apple Pie Wine-Infused Jelly)🫓 Naan Flatbread
🧀 Apple Cider Chevre (from Nettle Meadow farm)
🍎 Apple Slices
🍂 Caramel Drizzle & Cinnamon Dusting

---

Cure your Sunday Scaries with us and join us every Sunday at our Queensbury Tasting Room for our Bottomless Mimosa Brunch! Purchase our Sunrise, Sunset Mimosa Flight along with our delectable Brunch Board and receive bottomless full-sized mimosas to follow!

---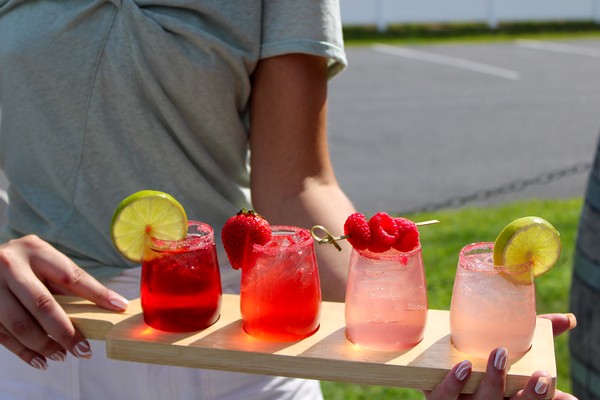 Join us at one of our amazing events at our Queensbury Tasting Room this fall! We have a variety of different events this fall, some of which directly support our Drink Pink Fundraiser (like the Make Your Own Cocktail Class pictured above!) We also have a "Save the TaTa's" Comedy Night, Fall-Themed Paint & Sip and so much more throughout the whole month! Stay tuned for the fun and festive events that we have planned for the upcoming Holiday season!

---

Join us at our Queensbury Tasting Room (on our patio as long as the weather permits) to enjoy live music from talented local musicians from the area! We have an array of different types of music from vocals, guitarists, drum players, duos and so much more! Enjoy sipping on a glass of wine while grooving with some music to unwind at the end of the week!

---
We have gourmet foods from local artisan producers available on all of our food menu items as well as for sale at both of our Tasting Rooms! If you try something on one of our charcuterie boards that you love, you can bring it home to enjoy for any special gathering you have this holiday season! All of our spirits, beer, and hard ciders are for sale at our Tasting Rooms for you to also enjoy in the comfort of your home after your visit!

Comments
Commenting has been turned off.