September 28, 2017 | Seasonal Favorites, Wine Guides, Wine Pairing Recommendations | Adirondack Winery Staff
Wine & Apple Dessert Pairing Guide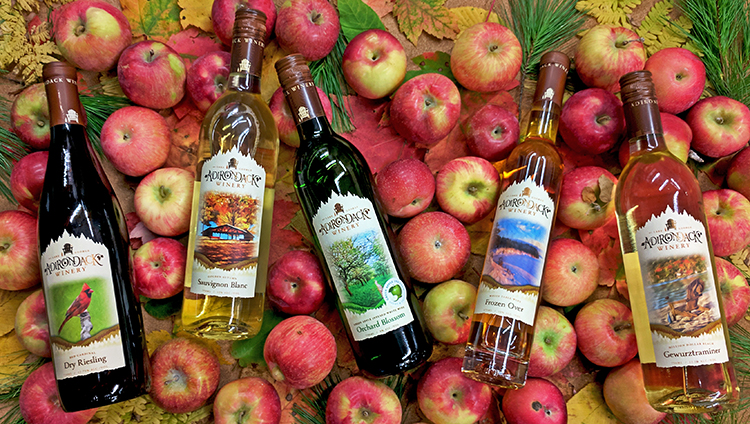 Fall is in full swing up here in the Adirondacks, and you know what that means: it's apple season! There are few things better than a warm apple dessert with a glass of wine by the fire on a chilly fall night. Scroll down to see our favorite apple and wine pairings along with some tips:
And don't forget ... Drink what you like! The wine you like to drink always takes precedence over any recommendation.
Cider Donuts
What is fall without cider donuts?! The ginger notes and slightly tart apricot sweetness of our Gewürztraminer are echoed in the warm cinnamon spice and light, fruity sweetness of an apple cider donut, making this semi-dry white the perfect pair!
Apple Pie
This fall classic can be made so many different ways! If you like your pie on the sweeter side with a crumble or streusel top, we recommend pairing it with our Soaring Strawberry. The sweetness of the strawberry and honey tones will stand up to the rich fruit filling and sweet streusel top. If you like your pie slightly less sweet with a double crust then we suggest trying it with our Dry Riesling. This full bodied Riesling with zesty, fresh apple notes and clean acidity & spiciness will be a nice foil to a tart granny smith apple pie with a flaky double crust.
Try Dry Riesling >>
Try Soaring Strawberry >>
Apple Crisp
For the rich, intensely sweet, crumble-topped Apple crisp we recommend an equally rich, intensely sweet wine. Our delicious ice wine, Frozen Over, is an intense, yet delicate, nectar-like wine with a balanced honeyed sweetness. Perfect for a cold night with a warm bowl of apple crisp and a scoop of vanilla ice cream! For those who think that apple crisp is plenty sweet on its own and would prefer a dryer wine, Gewürztraminer makes a nice match, too. The ginger notes and tart sweetness are a refreshing foil to the heavy, sweet apple crisp.
Try Frozen Over >>
Try Gewurztraminer >>
Caramel Apple
Turn this childhood classic into a grown up guilty pleasure and pair it with our Semi Sweet Riesling or classic port, Adirondack Splendor. Full bodied, luscious & silky, Semi-Sweet Riesling stands up to the caramel while the tropical fruit notes complement the bright sweetness of the fresh apple. The intense, velvety smooth port, Adirondack Splendor, also can compete with the fresh apple and strong, sticky caramel with it's spice and raisin notes, and rich black cherry and plum flavors.
Try Semi-Sweet Riesling >>
Try Adirondack Splendor >>
Apple Tart
The last apple treat on our list is a rustic apple tart. Not too sweet or too heavy, but just right for a touch of dessert after a hearty fall dinner, a free form apple tart is one of the easiest ways to get your apple fix. The perfect refreshing wine for such a dessert is our Sauvignon Blanc. Lightly sweet, crisp and refreshing with a touch of citrus, this pairing will cleanse your palate after a big dinner. The citrus notes play off the tart, sweet apples and leave you wanting more.
We have a great recipe for a wine infused "Adult Applesauce" too! Check it out>>
Comments
Commenting has been turned off.