June 14, 2016 | Winery Announcements | Adirondack Winery Staff
12 New States Added to Our Shipping Map
You've been waiting patiently, and we're doing our best to deliver, but for twelve new states, the wait is over! Adirondack Winery can now ship to: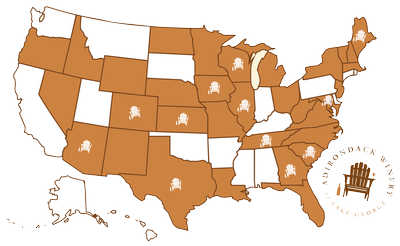 - Arizona
- Colorado
- Georgia
- Iowa
- Illinois
- Maine
- Maryland
- South Carolina
- Tennessee
- Texas
- Wisconsin
Bringing our total to 34 states across the country! That means you can now have your favorite piece of the Adirondacks shipped directly to your door no matter the time of year! And to get you started we are inviting anyone who lives in any of those new states to take advantage of the same discounts enjoyed by our Case Club members!
From now until June 30th, 2016 you'll get $5 shipping and 5% off orders of 6 or more bottles with code NEWST5ON6, or FREE shipping and 10% off order of 12 or more bottles with code NEWST10ON12! And, if you purchase 12 or more bottles, you'll be automatically enrolled in our Case Club, which means you'll have access to those discounts for the rest of the year! Happy shopping, and we'll see you in Lake George!
Comments
Commenting has been turned off.