August 9, 2017 | Adirondack Winery "Survival Kits", Seasonal Favorites | Adirondack Winery Staff
Summer Survival Kit - 5 Essentials For A Perfect Day Outside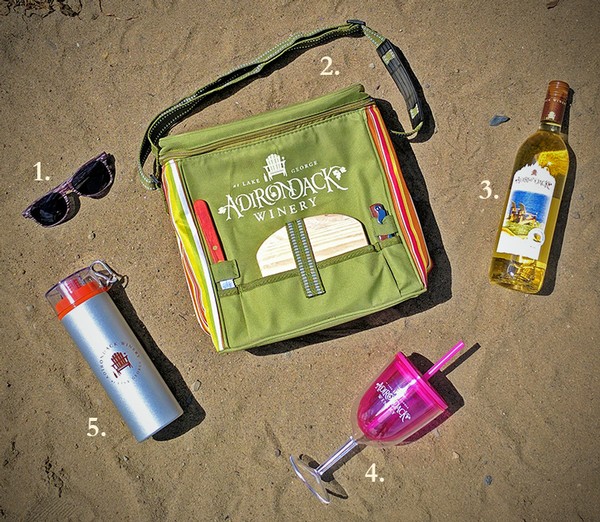 Day on the lake, at the track, or just out for a picnic, don't leave home without this Adirondack Winery Survival Kit! Here are 5 essentials for any summer day out and about:
(clockwise from top left)
These stylish sunglassed feature the Adirondack Winery logo, a unique wood-grain print, and much needed UV protection. The perfect accessory for your bottle of Sunny Day!
Fully insulated with plenty of room for wine, cheese, snacks and more. It comes neat and organized with a corkscrew, cheese board and knife so you can throw a wine and cheese party anywhere you go!
This delightful wine bursts with aromas and flavors of tropical fruit — like snacking on delicious freshly cut, ripe pineapple slices with a glass of wine in hand!
Take your wine for a walk and keep it cool! The sealed lid prevents spills, a straw makes for easy drinking, and the air insulation makes this the perfect cup for keeping your wine – or favorite frozen wine cocktail – nice and chilled!
The perfect alternative to glass bottles! Take your favorite wine with you in this stainless steel canteen. The screw-on lid and spout make pouring easy and protects from spills.
Give your wine a hug! VinoHugs keep the temperature constant no matter where you take your wine. 3-way strech neoprene and handwashable, fits most glasses. You can buy it in Black online, but Orange and Aqua colors are ONLY available at our Lake George and Bolton Landing Tasting Rooms.
Comments
Commenting has been turned off.