June 2, 2014 | Press Releases | Sasha Pardy
Adirondack Winery Announces Partnership with Opici Family Distribution to Sell its Wine Across NY State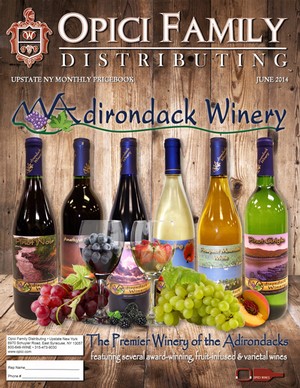 Adirondack Winery is taking its next big step in growth. On June 1st, we launched our portfolio of wines with Opici Family Distributing, as part of a major effort to have Adirondack Winery wines sold at wine and liquor stores, as well as restaurants, hotels and bars, across New York State!
It's hard to believe that we started our wine making operation in about 800 square feet in the back of our Tasting Room store front in Lake George. In our first year, we produced about 1,000 cases of wine. By 2011, demand for Adirondack Winery wines had outgrown our wine making capacity and Tasting Room space, so we moved our wine making operation to a warehouse facility in Queensbury while at the same time renovating and expanding our Lake George Tasting Room. Now entering our seventh summer season, we expect to produce at least 7,000 cases of wine this year!
Being located in a tourist location, we know that many of you only get to visit us about once per year. For this reason, it is essential that our wines are widely available at wine and liquor stores across New York so that customers that fall in love with our wines at our Tasting Room or at a wine festival have easy access to our wines all year long! Just two years ago, our wines were available at about 40 liquor stores, primarily in the Capital Region; Today Adirondack Winery wines are sold at more than 100 stores across New York State.
To date, the winery has self-distributed its wines to stores via shipping, self-delivery and delivery service, DNT Express. "We decided to partner with Opici Family Distributing because we know the demand for our wines in the wholesale marketplace is more than we can handle with our own staff," said Mike, adding "Opici has an excellent reputation with liquor store owners, particularly for having the best selection of New York wines, so we feel very comfortable in their ability to represent our brand."
Mike Proch, Vice President of Sales for Opici's Upstate New York market said, "We are excited to have Adirondack Winery join our diverse portfolio of wines. They have developed a strong Adirondack brand that has statewide appeal and we see great potential for the brand to grow fast across Upstate New York." Adirondack Winery will first concentrate on growth in Upstate New York and in the fall, will consider growth into the Metro New York City market, where area distributors have already expressed interest in the brand.
As the summer season kicks off, we are excited to see both new and returning customers visit us in the Tasting Room, and look forward to sending you home with an even longer list of wine and liquor stores near you that carry Adirondack Winery wines!
Comments
Commenting has been turned off.