December 12, 2019 | Mackenzie LeVan
Adirondack Winery Holiday Wines Pairing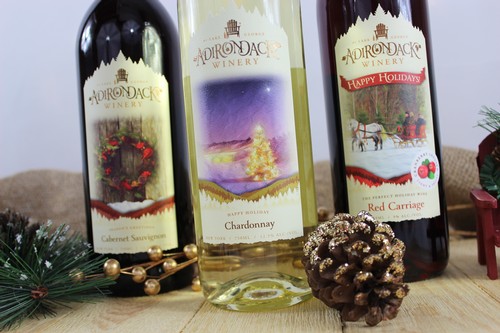 It's the most wonderful time of the year – or for some the most stressful! That is why wine is a necessity to get you through the holiday season!
Playing host can be a tough job – especially if you are planning to cook for your guests. It can be difficult to find a wine that pairs well with your dinner but luckily, we are here to help! We made a list of a few traditional holiday dinners and desserts that pairs with our Holiday Wines – available now on our Wines page! Order soon for Christmas Delivery! (Deadlines start Dec. 16th.)
Christmas Ham & Chocolate Almond Cake with Sugared Cranberries – Red Carriage
This semi-sweet, light-bodied wine is crisp, offering notes of fresh cranberries harmoniously blended with robust wine, balanced nicely with acidity and light tannins.
The juiciness of the ham compliments the sweetness of the wine beautifully, leaving your taste buds satisfied with every bite and sip!
And who doesn't love a good chocolate cake? It's inventible that this pairing is a match made in heaven.
Our unoaked version of Chardonnay shows the true fruity characteristics of the New York Chardonnay grape. The wine opens with a ripe pear aroma and delivers golden delicious apple and understated citrus notes with a clean finish.
Light and crisp, this white wine will leave a lasting impression on your guests. PLUS, keep it fresh all night long with our handy wine stopper and vacuum sealer.
Click here for our Secret Santa Holiday Chardonnay Bundle and save $5 off retail value!
Our winemaker's artful blend of Merlot, Cabernet Sauvignon and Malbec Grapes, this Meritage was aged in American Oak Barrels for 18 months. A medium bodied, dry red with intense oak and earthy aromas, this wine delivers a velvety mouth feel and complex flavours of dark cherry, red berries and spice, with an enjoyable buttered toast finish.
The earthy and nutty flavors of this premium red blend create a sensational pair with the rich flavor of the meat.
Gold Club Members – you're in luck because this is the FREE gift of the month with a purchase of 11+ bottles! Click to see more of our Club benefits.
Aged in American Oak Barrels, our Cabernet Sauvignon has an unmistakable texture and black currant nose. Firm tannins envelop the wine, locking in its dark cherry color. Earthy and floral tones give our "Cab Sav" complexity as it pushes forward dynamic fruit tones that are nicely balanced with oak.
This pairing is exceptional because the dense protein in both dishes will mellow out those firm tannins, allowing you to taste the flavors in the wine.
PLUS, we have a Secret Santa Cabernet Sauvignon Bundle with our handy vacuum seal that will preserve the flavors of your leftover wine!
Don't let the stress of the holiday season bring you down! This is the time of year to spend quality time with friends and family. Appreciate and cherish every moment – even the crazy times! Our wines are meant to bring people together and create moments of nostalgia. So be the hostess with the mostest and give your guests a holiday they will remember forever!
Comments
Commenting has been turned off.