November 5, 2015 | About Events | Adirondack Winery Staff
Adirondack Winery Made Leaps, Bounds & STRIDES Against Breast Cancer!

Adirondack Winery made leaps, bounds and most importantly, we Made Strides Against Breast Cancer this past October by breaking all of our previous Drink Pink fundraising records! We are so proud to announce that we have raised a total of $3,825 for the American Cancer Society's Making Strides Against Breast Cancer.
We could not have had this great amount of success without the help of our customers, friends, family and local community rallying beside us for this important cause; So for that, we say CHEERS TO YOU & THANK YOU for doing your part and for making strides towards a world without breast cancer!
Our fundraising efforts kicked off in late September with the release of our limited-edition, Drink Pink Berry Blush, a charitable wine, from which $4 from each bottle sold was donated to Making Strides. We are happy to report that this wine SOLD OUT and raised $1736 towards our total donation.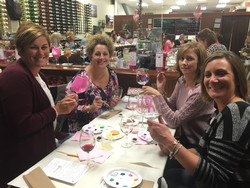 New this year, we launched our Drink Pink Fundraising Weekend with a Painting Party where customers purchased tickets to enjoy a full wine tasting session, chocolate pairings courtesy of Mountain View Confections and guided instruction in painting their very own wine glasses. Five dollars from each ticket was donated to Making Strides, and when we quickly sold out of our October 16th event, we added on a second date that sold out just as fast!
We continued our efforts right into the weekend where people gathered in our Lake George Tasting Room to enjoy wine tastings, games, raffles, Drink Pink Wine Slushies and a number of "Pink" items, all of which benefitted our fundraising efforts.
Another huge contribution to our fundraising came from the amazing local businesses that so generously donated items and gift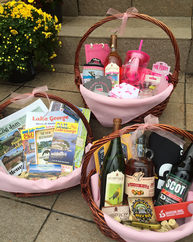 certificates to create some great raffle baskets for customers to take chances on. In addition to the Adirondack Winery Drink Pink Basket, featuring our Drink Pink Berry Blush and other "Pink" wine accessories, we were able to raffle off a Lake George Getaway Basket as well as a Craft Beverage Basket, thanks to the Lake George Steamboat Company, The Lake Motel, Dunham's Bay Resort, The Log Jam Restaurant, Mountain View Confections, Hoppy Trails Brew Bus, Davidson Brother's Brewing Company and Lake George Distilling Co.
Our fundraising efforts culminated in the Annual Making Strides Against Breast Cancer Walk of Warren County, where over 1,500 participants raised over $115,000 towards finishing the fight against breast cancer! Adirondack Winery was honored to be the #2 fundraising company this year and to see our hard work pay off as we stood beside survivors and their families, participants and sponsors all of whom were united in one cause.
As we close the book on another Drink Pink Fundraiser, we are humbled, knowing that we have such wonderful customers who help us to utilize our success to give back to the community that supports us. We look forward to the day in which our, and so many others' generous contributions finish the fight against breast cancer.
Cheers!
Photogallery rendered here.
Comments
Commenting has been turned off.