July 13, 2015 | Press Releases, Wine Award Announcements | Sasha Pardy
Adirondack Winery Named New York Riesling Winery of the Year!
Adirondack Winery is pleased to announce that judges at the 2015 New York International Wine Competition awarded the Queensbury-NY based winery with the title of "New York Riesling Winery of the Year". The recognition was earned based on Judges' resounding opinion of Adirondack Winery's 2013 Vintage of Semi-Dry Riesling -- the white wine was awarded a Gold Medal.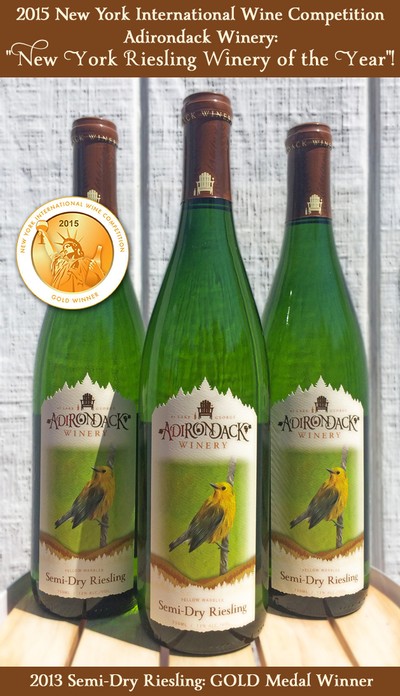 "We could not be more pleased with this result our Semi-Dry Riesling earned at this competition," said Sasha Pardy, President and Co-Owner of Adirondack Winery. "Our customers clearly agree with the judges. We released the wine for sale in our Lake George tasting room and online in Late November 2015 and we are already nearly sold out of it! That's pretty remarkable, considering November through May is our 'slow season' and the wine has only been available in our Tasting Room and website, not in liquor stores," said Pardy. She noted they had produced about 125 cases of the 2013 Vintage.
The New York International Wine Competition is the first major international wine competition with TRADE ONLY judges, comprised of buyers from the top retail stores, sommeliers, restaurant owners, hotel beverage directors, distributors and importers. The 2015 Wine Competition (the 5th Annual event) was held May 17th-18th at the 3 West Club in New York City. Adirondack Winery shipped its Semi-Dry Riesling to the event for the judges to evaluate – it was judged alongside close to 1,000 submissions from wineries in the US and 30 Countries around the world.
This competition is unique in that the judges are instructed ONLY to grant a wine an award if they feel they would import, distribute, buy, or sell the wine at their own place of business. Also unique to the wine competition-trade, only 30% of submissions in 2015 received any medal at all. "This process makes us particularly proud that our Semi-Dry Riesling earned us a GOLD Medal and the New York Riesling Winery of the Year Title," said Pardy.
Adirondack Winery's Semi-Dry Riesling was crafted by Wine Maker and CEO, Michael Pardy. "An excellent Upstate New York Vineyard grew the grapes we used to make our Semi-Dry Riesling. After several tests of the juice, I decided this vintage, our inaugural New York Riesling, would be best to debut in a Semi-Dry format. The Residual Sugar is about 1.5%, balanced nicely with acidity and 12% Alcohol by Volume, which creates just a touch of sweetness to the wine. I am thrilled that we earned the New York Riesling Winery of the Year title for this wine, as we have been honing our craft for several years now and I feel like, and I think our customers agree, that our wines just keep improving. That's what I strive for," said Pardy.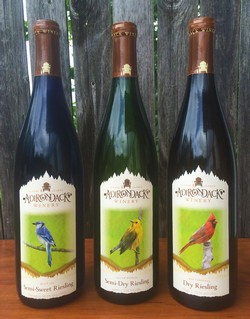 Adirondack Winery has a limited amount of cases of its Semi-Dry Riesling 2013 Vintage still available for sale; however, the company is ready with a 2014 Vintage of Semi-Dry Riesling to go out on the market right behind it.
Additionally, the winery just released a Semi-Sweet Riesling and will soon be releasing a Dry Riesling – the grapes for these wines were also harvested in the Lake Ontario region. The three wines make a palate-pleasing trio, with all three labels featuring common birds of the Adirondacks.
Comments
Commenting has been turned off.