July 25, 2014 | Press Releases | Sasha Pardy
Adirondack Winery Named Top Winery to Visit in the 50 States!
Adirondack Winery is pleased to announce that FlipKey.com, the official vacation rental blog affiliate of TripAdvisor.com, has named Adirondack Winery as the #1 "Winery or Brewery Worth Traveling For" in New York State!
In an article posted on July 22, 2014, titled "50 States Series: Top Wineries & Breweries Worth Traveling For", author Matthew Moretti wrote, "We've searched through every state in the U.S. to find the top brewery or winery currently operating," and goes on to list the top-ranked winery or brewery in each of the 50 states, according to Trip Advisor's complex popularity index. Adirondack Winery is listed as THE top winery or brewery in New York State.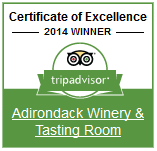 "We are so flattered to have this recognition," said Sasha Pardy, Co-Owner and President of Adirondack Winery. "We work very hard to deliver an excellent Wine Tasting Experience to each of the thousands of visitors to our tasting room each year and could not be happier to see that our customers have spread the word so vehemently through their reviews of us on TripAdvisor."
Adirondack Winery currently holds a 4.5-out-of-5-star rating on Trip Advisor, with 192 reviews (including 141 5-star reviews); it is ranked as the #1 of 12 Activities in Lake George and has earned a "Trip Advisor Certificate of Excellence" for the past several years in a row.
"I had no idea our ranking was so strong amongst our peers in the New York Winery and Brewery industry until this article came out. We are humbled and thank our customers for their ongoing enthusiasm and support for our wines and Wine Tasting Experience," added Ms. Pardy.
About the Trip Advisor Popularity Index: The TripAdvisor popularity ranking is based on traveler reviews and reflects a business' standing against other businesses within its geographical location. It takes into account the quality and quantity of reviews and recent reviews carry more weight than old reviews.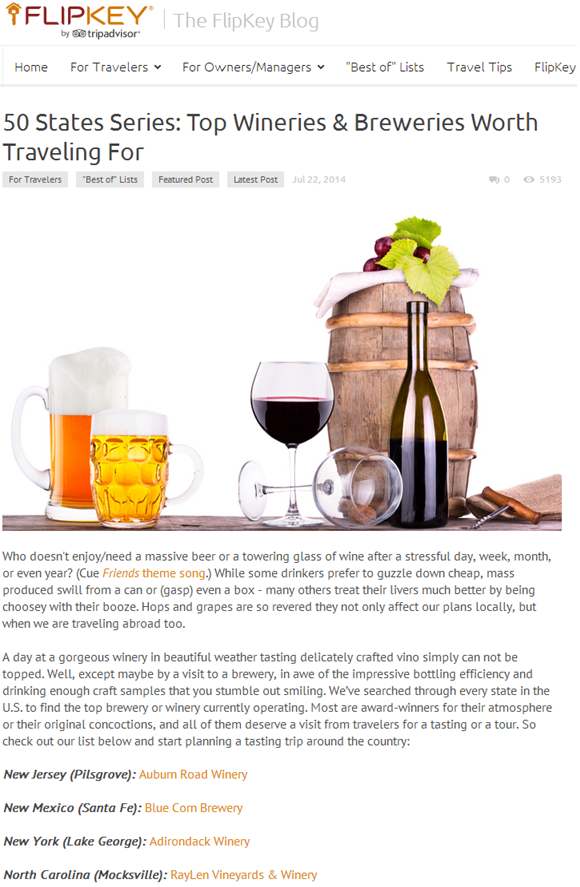 FlipKey, the official Vacation Rental Blog of Trip Advisor, names Adirondack Winery as the Top Winery or Brewery Worth Traveling For in New York[/caption]
Comments
Commenting has been turned off.