October 10, 2018 | Roberto Cruz
Adirondack Winery Scores 2 More Gold Medals for Seyval Blanc, Merlot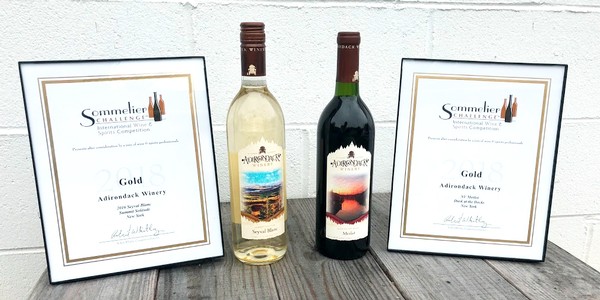 Our customers often tell us how much they like our Seyval Blanc and Merlot and it turns out that the critics agree!
These two wines recently each won a Gold Medal at the 2018 Sommelier Challenge International Wine & Spirits Competition in San Diego, California.
The wines were evaluated alongside 1,100 wines from around the world and ranked among the highest for taste, value, quality and more.
A few notes about these fan-favorite wines:
Seyval Blanc (2016 Vintage, New York White Wine)
- This refreshing, dry white wine is well balanced with notes of bright green apple and citrus tones.
- It is the winner of FIVE Gold Medals, including a gold at the 2017 Winemakers Challenge International Wine Competition.
- It pairs well with shellfish, light salads, spicy meat dishes and mild cheeses.
- Its grapes were grown near New York's Lake Ontario and it was crafted at Adirondack Winery's winemaking facility in Queensbury.
- Its label features the beautiful colors of the Adirondacks with an autumn view from New York's Whiteface Mountain.
- A review from Catherine Fallis, Master Sommelier at Planet Grape Wine Review called it, "Crisp and juicy with a light sweetness and notes of lemon, apple, pear, peach, ginger, wax and bay leaf." Anna Lee C. Iijima at Wine Enthusiast wrote, "Fresh, leafy herbs and lemon zest perfume this slightly grapey, somewhat "foxy" if you will, wine. It's crisp and cutting in mouthfeel, finishing on a juicy white grapefruit note."
Merlot (2016 Vintage, American Red Wine)
- A full-bodied dry red wine, ADK Winery's Merlot has earthy tones and deep purple hues, with notes of ripe black cherry and oaky flavors, with easy tannins and a silky finish.
- Last year was the first year for this vintage.
- It pairs well with roasted poultry, beef dishes with rich sauces, roasted veggies, smokey or sharp cheeses, and dark berry desserts.
- It won a Silver Medal at this year's Winemaker Challenge.
- Its grapes were grown in TK.
- Its label features an early summer photo of a marina on Harris Bay at dusk, which exudes the warmth and relaxation one feels when sipping a glass of the Merlot. The photo was taken by Adirondack Winery Co-Owner and President Sasha Pardy.
So if you don't know, now you know about our two recent Gold Medal winners! Both are available for purchase year-round at our Tasting Rooms and online at adirondackwinery.com/shop. Visit us again soon!
Comments
Commenting has been turned off.