February 28, 2018 | Recipes | Vicky Seabury
Are You Ready for National Mulled Wine Day?
Did you know that Saturday, March 3rd is National Mulled Wine Day? Here at Adirondack Winery, warming up some mulled wine is one of our favorite ways to spice up a bottle of wine with some comforting flavors!
Mulled wine refers to a delicious, spice-infused wine drink that has been infused with spices and is served warm. Mulled wine has been around for centuries, dating all the way back to first century Rome, and was created as a tasty way to stay warm during cold winters. Mulled wine recipes can vary to suit your taste and what type of wine you want to use, and ingredients can include everything from cinnamon, cloves, nutmeg, and anise to fruits like figs, oranges, or apples.
Is your mouth watering yet? Celebrate National Mulled Wine day this weekend by warming up with one of our favorite recipes!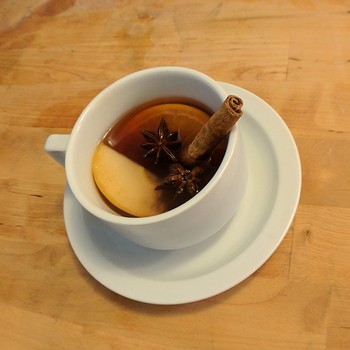 Ingredients
1 bottle of your favorite red wine (we suggest Adirondack Winery Merlot or Pinot Noir)
1 Orange (sliced)
1 Apple (sliced)
1 1" piece Ginger (sliced thin)
3 sticks Cinnamon
1 cup Water
1/2 cup Brown Sugar
4 Whole Cloves
2 Anise Stars
Directions: Combine all ingredients in a crockpot. Heat on low for 2 hours before serving or 1 hour on high. Ladle into mugs garnish with fruit and cinnamon stick. Enjoy!
Short on ingredients, but still want to enjoy a warm mug of mulled wine? Check out this easy-to-use packet of mulling spices! These handy little packets are this month's calendar deal for Gold Club members and are available for purchase both online and in our tasting room. Cheers!
Comments
Commenting has been turned off.