February 27, 2020 | Roberto Cruz
Become an ADK Winery Tote Club Member!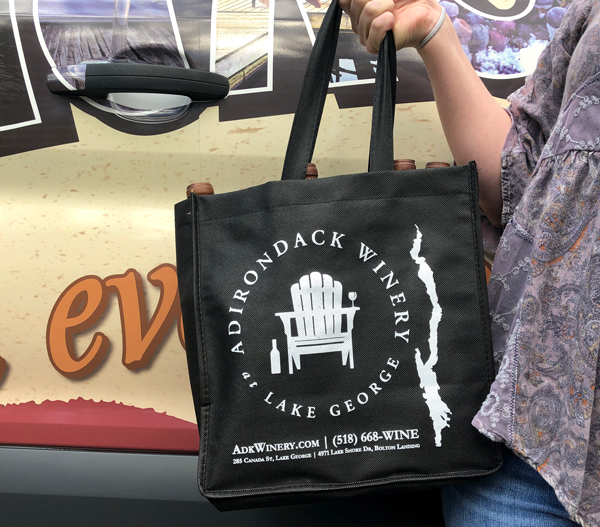 The New York State plastic bag ban will go into effect Sunday, March 1st, which means changes at grocery stores and retail outlets across the state.
At Adirondack Winery, we're happy to phase out plastic bags from our retail locations in Lake George, Queensbury and Bolton Landing - BUT we want to take it a step further, by encouraging customers to help support the following initiatives at our Tasting Rooms:
The Adirondack Winery Tote Club
We are encouraging all of our customers to ditch the one-time use bags for our reusable 6-bottle Wine Tote (available at both our Tasting Rooms and our online store). For just $4.99, this wine tote can help you carry all of your wine home, whether it is purchased at our Tasting Rooms or from one of the 400+ liquor stores in New York state that carry our wines. Our current tote has an Adirondack Winery logo as well as a gorgeous silhouette of Lake George on it. There are also fantastic side pockets that easily fit wine glasses, a corkscrew and additional wine accessories!
Reusable Boxes
Customers who visit our Tasting Rooms without a reusable bag will still be able to carry their wine home just as easily as before. For customers who purchase 1-4 bottles, we have stylish paper bags, that we hope you will reuse in one way or another.
Customers who purchase 5 or more bottles, will be given a box to carry their wine home . These are the same boxes we receive our wine bottles in, which will allow YOU to assist us in the effort to recycle and reduce waste.
We hope you too are looking to embrace New York's plastic bag ban by carrying your wine in style! Plus, we are confident that this is just the beginning when it comes to changes we will make in 2020 to lessen our environmental impact. Stay tuned!
Let us know what you think by sending an email to ilovewine@adirondackwinery.com
Comments
Commenting has been turned off.