June 8, 2017 | Adirondack Winery Staff
Celebrate National Rosé Day the Adirondack Winery Way!
Hey, hey it's Rosé Day! Rosé may be the perfect wine for summer, and here at the Adirondack Winery we have you covered with FOUR different and unique Rosés! Rosé wine can come in a variety of ways — from dry and crisp to sweet and intense. National Rosé Day is June 10th, but at Adirondack Winery, every day is Rosé day!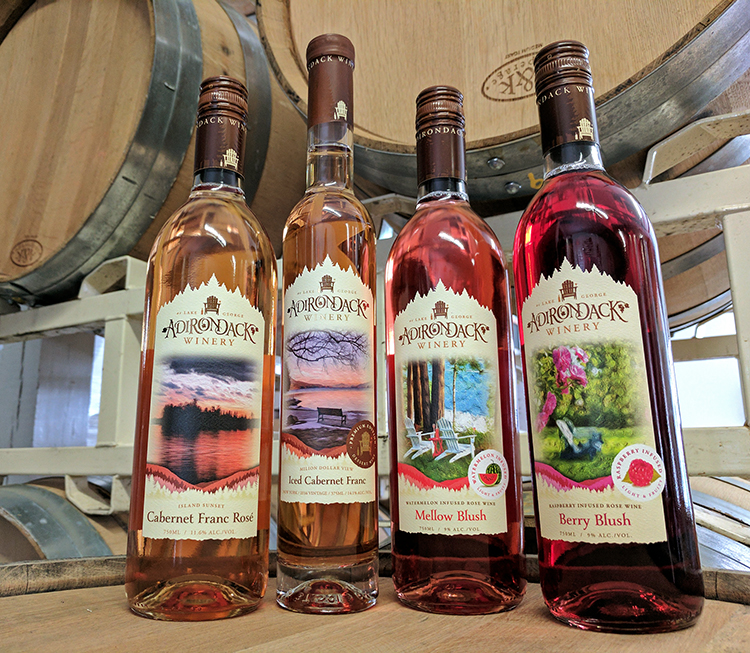 What is Rosé?
Rosé (or "Blush") does not refer to a type of grape, but rather only to color of the wine — the same way white and red do! You achieve the pink color from leaving the grape juices in contact with red grape skins for just the right amount of time. Juices from all the different kinds of grapes are mostly clear, and the longer the juices sit with the grapes skins, the richer the color will be! Grape skins also add body, tannins, aroma, flavor and complexity to wine.
Varying the length of time the juices sit with skins enables a wine maker to create different shades of Rosé with varying levels of intensity & sweetness. This means Rosés are extremely versatile, great for wine cocktails, and are very food friendly! Less intense than full-bodied, tannic reds, but with more depth than a light white, the "happy medium" flavor profile means you can almost always find a Rosé to fit your needs!
Rosé the Adirondack Way!
Dry Rosé
Our Cabernet Franc Rosé is tart, fresh and lightly bitter and sweet. This medium bodied, dry rosé wine offers sweet floral aromas followed by strawberry tones with a green, herbal finish. It is delicious chilled on its own or paired with a variety of dishes, from seafood to salads, tapas and rich dishes with Mediterranean flavors.
Semi Sweet
Mellow Blush is a refreshing watermelon infused rosé wine presents characteristics of ripe watermelon with slight tones of mixed berries, balanced with a crisp and juicy sweetness. Best served chilled to bring out its flavor — it makes a great wine cocktail too! Try a Cool Mellow Refresher or Watermelon Wine-a-Rita
Berry Blush is an easy-drinking raspberry infused rosé wine offering the succulent, mouthwatering flavors of sweet, ripe raspberries blended nicely with fresh floral notes and a soft finish. Berry blush is our favorite Rosé for frozen wine cocktails, like this Berry Frosé
Dessert
Our newest Rosé wine is Iced Cabernet Franc. Hand-crafted from plump Cabernet Franc grapes frozen post-harvest, this full-bodied dessert wine is delicious and complex. It opens with aromas of candied orange peel, then floods the palate with deliciously complex flavors of sweet strawberry, banana and a touch of honeyed melon that lingers on the palate. We only made 95 cases of this premium dessert wine!
Comments
Commenting has been turned off.