September 20, 2023 | Piper Spratt
Cheers for a Great Cause! 7 Ways to Support our Drink Pink Fundraiser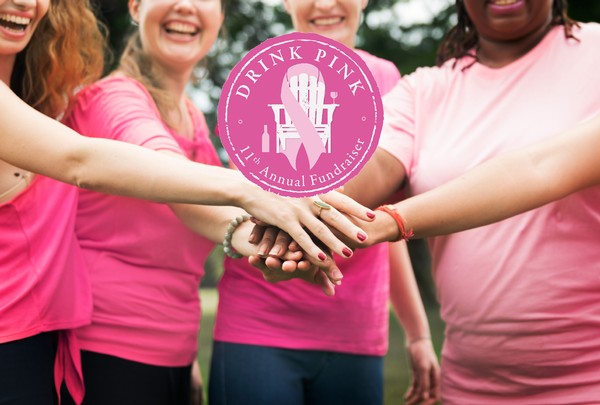 Drink Pink is returning for another year, and we are excited to support Making Strides Against Breast Cancer of the Adirondacks with another amazing fundraiser! We have numerous ways to get involved in our Tasting Room or from the comfort of your home. Read on to discover how you can help us reach our goal of raising $20,000 to support life-saving services provided by Making Strides Against Breast Cancer of the Adirondacks, such as trips to and from treatment, innovative research, and free information and support to catch and treat breast cancer early.
We have a plethora of ways for you to help us achieve our fundraising goal!
Here are 7 ways that you can support our cause: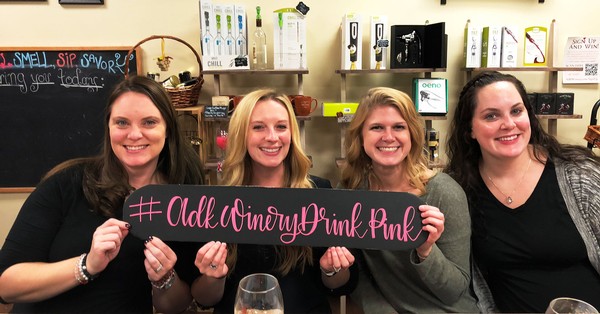 Our Drink Pink breast cancer awareness fundraiser will run every day through Oct. 31st at both locations in Lake George and Queensbury. Your support will help us raise as much money as we can to donate to Making Strides, an organization that provides life-saving treatment, services, and more to breast cancer patients, survivors, and their families.
Come and try out our specialty wine-tasting offerings, pink wine slushies, limited-time-only Drink Pink accessories, and more! Don't forget to wear pink to show your support. Every donation we receive will contribute towards our fundraising goal. We will make multiple donations to our team throughout the fundraiser, and the more support we get, the more we will be able to help Making Strides.

---

Our limited-edition mixed berry-infused Berry Breeze is the flagship product of our annual Drink Pink fundraiser, featuring a special pink ribbon label and pink cap that grabs everyone's attention. Not only will you enjoy great wine, but you'll also show your support for an amazing cause.
We sold over 850 bottles of Berry Breeze last year thanks to your support, and we're aiming to break that record this year. Any wine order this month will support our Drink Pink Fundraiser, so make sure you grab a bottle or two!

---

Throughout October, we sell unique Drink Pink-themed wine accessories and gifts at our Tasting Rooms and online. The more we sell, the more we can support Making Strides Against Breast Cancer of the Adirondacks! You can stock up on the coolest pink wine accessories, including pink stainless steel sippy cups, Drink Pink wine glass koozies, slush mix for your Drink Pink Berry Breeze, and more.
We also have a wide variety of food items available in our stores, such as pink chocolate bars, pink cheese, slush mix, and more. So, grab some accessories or food items to show your support.

---

4. Drink Pink Events!
We are holding Drink Pink-themed events throughout October, including Paint & Sip, Candle Making, Trivia, Comedy Night, Yoga, Cocktail Class, and more! All proceeds from these events will be donated to Making Strides Against Breast Cancer of the Adirondacks.
View the entire Event Schedule Here
---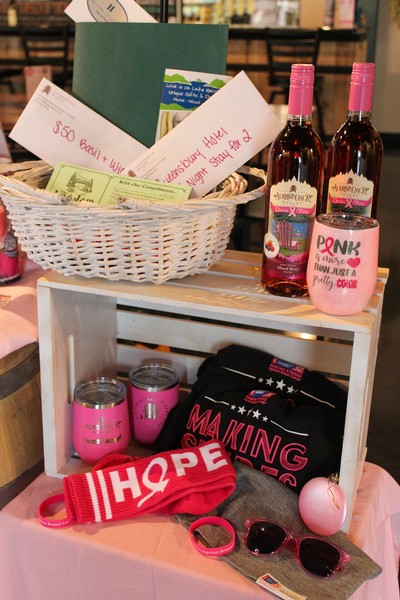 We donated over $2,200 to Making Strides last year thanks to your support of our raffle baskets. This year, we have nine incredible raffle baskets, and you can purchase tickets for all of them online or in-store for just $5 each. 100% of the profits from these tickets will be donated to Making Strides Against Breast Cancer of the Adirondacks.

---

Last year, we raised over $2,000 in donation cards for Making Strides, thanks to the generous donations from customers like you! Donate to Making Strides at our Tasting Rooms or online, and we'll hang one of these donation cards with your name on it at the Tasting Rooms. Click Here to add it to your online cart! (Each card is a $1 donation, and you can add more cards to your cart for a bigger donation of $1 each!)

---

Every year, our staff, customers, friends, and family come together to support this incredible cause, and we invite you to join us too! Click here to join our Making Strides fundraising team or to donate anything you can to our team. Every dollar helps us get closer to our goal of raising $20,000 for critical breast cancer services and programs in our community.
Our Drink Pink festivities will culminate with the Making Strides Against Breast Cancer Walk on Sunday, Oct. 22nd, starting at 10 am at the Glens Falls City Park. Join our walk team for a fun-filled day with friends and family while supporting this amazing cause. Breast cancer is close to the hearts of our employees, customers, and their families, and we hope you will pledge your support to one day rid the world of breast cancer for good!

#AdkWineryDrinkPink
Thank You for helping us spread the word! Cheers from The Adirondack Winery Team!
Comments