March 25, 2020 | Roberto Cruz
Connecticut Residents: Here's How to Have ADK Winery Wines Shipped to You!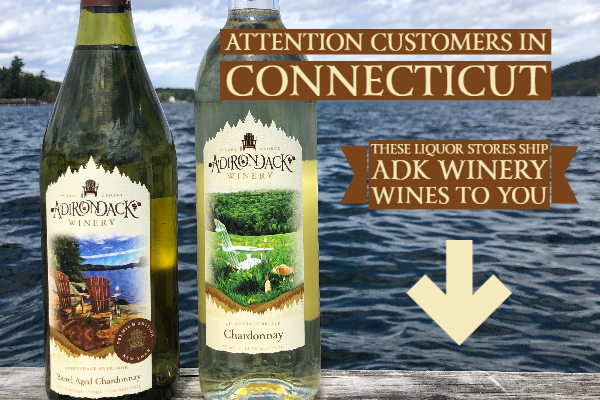 We at Adirondack Winery are working hard to ship to our dedicated Connecticut customers. In the meantime, we have teamed up with our local liquor stores to offer you shipping options directly to your front door!
We have compiled a list of stores and links directly to our products, so you can get our wines conveniently shipped to your home! Please know that not all these stores carry our full lineup of wines, however you can call and request that the store order your favorites and they can work with us to get it!
Join us in supporting the following businesses who now offer shipping to Connecticut:
WeSpeakWine.com
We Speak Wine
260 Hoosick St.
Troy, New York 12180
1-(866)-WINE-086
https://www.wespeakwine.com/store/Search.aspx?SearchTerms=adirondack%20winery
All-Star Wine & Spirits
579 Troy- Schenectady Rd
Latham, NY 12110
(518) 220-9463
https://www.allstarwine.com/main.asp?request=SEARCH
Exit 9 Wine & Liquor
9 Halfmoon Crossing Blvd
Halfmoon, NY 12065
(518) 688-0153
https://www.exit9wineandliquor.com/websearch_results.html?kw=adirondack+winery
NY Wine & Liquor Warehouse
75 Vandenburgh Ave
Troy, NY 12180
(518) 874-1044
https://www.nywineandliquorwarehouse.com/main.asp?request=SEARCH&search=adirondack%20winery
*This list will be updated as more information becomes available. For a full list of liquor stores that carry our wines, click here. For full shipping details, we encourage you to call each store or reach out via social media. Cheers!
Comments
Commenting has been turned off.