September 27, 2016 | About Events, Press Releases, Winery Announcements | Adirondack Winery Staff
DRINK PINK Season Is Here!
Adirondack Winery is pleased to announce that our 4th annual "Drink Pink & Make Strides" campaign has begun! We have teamed up with the Warren County Chapter of the American Cancer Society's "Making Strides Against Breast Cancer" to bring our customers, employees, friends and families all together for this one united cause.
"We hope to play a small part in raising awareness and contributing to a world without breast cancer; a disease that has affected so many people right in our own community." -Sasha Pardy, Adirondack Winery President

To get started, we have created an Adirondack Winery team for the "Making Strides Against Breast Cancer" Walk – set to take place on Sunday, October 23rd at Queensbury High School. Our employees, friends and family have been invited to join and will be fundraising over the course of the next month. Last year we were able to raise a record high $3,825 for Making Strides – the second highest fundraising company for the event! This year, we've set our goal even higher with a fundraising goal of at least $4,000! Interested in joining us at the walk or donating to our team to help join the fight against breast cancer? CLICK HERE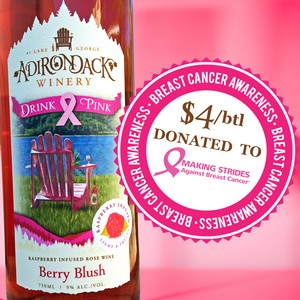 There are so many ways you can help us join the fight against breast cancer this October! We've planned three special events, are featuring several pink accessory items, and brought back the centerpiece of our "Drink Pink" campaign...Drink Pink Berry Blush! We've taken one of our best-selling fruit-infused wines and given it a makeover for the month of October, featuring a special label with a pink ribbon and pink Adirondack chair! And the best part, $4 from every bottle of this limited edition wine AND a portion of every featured accessory sale go directly to the Adirondack Winery Making Strides fundraising team! All items will be available at the Tasting Room through October, but you can buy a bottle of Drink Pink Berry Blush HERE or find some accessories online HERE!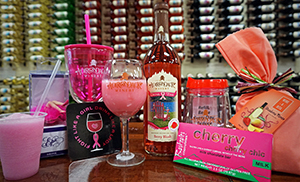 Start making plans for our 4th Annual Drink Pink Weekend! It's our big 3-day fundraising event at the Tasting Room October 14th-16th that you won't want to miss! At this free event, you're invited to try free samples of Drink Pink Berry Blush, enjoy a wine tasting session and Drink Pink wine slushies, partake in games, raffles and more, all to raise money for breast cancer research and to help spread awareness!
And this year, we've brought back our popular Drink Pink Wine Glass Painting Parties! With not one, but TWO dates: Friday, October 14th and Friday October 21st, gather up a group of friends and come enjoy a wine flight, chocolates and a light food spread, while you paint a pair of wine glasses to take home with you! The talented Kori White, of LARAC, will bring out the artist in all of us as she guides you through creating your design. Tickets are on sale now and $5 from every ticket sold will benefit Making Strides. Seats are limited, so be sure to get your tickets today!
We hope you can help us Drink Pink and join the fight against breast cancer at one of these three fun and fantastic events! You can learn more about our Drink Pink Weekend and Wine Glass Painting Parties HERE.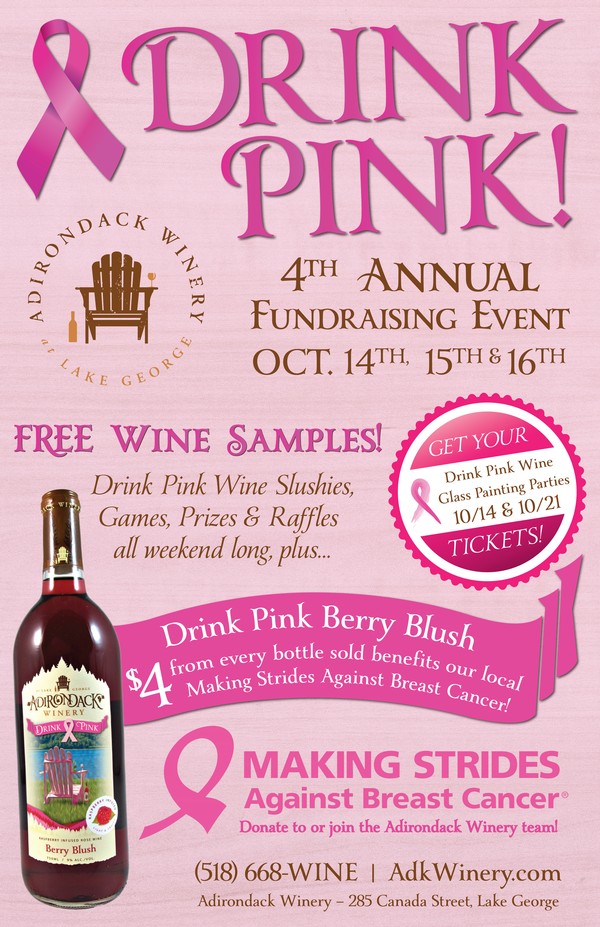 CLICK HERE to read the official press release>>
Comments
Commenting has been turned off.