November 18, 2022 | Holiday Guides | Rachel Rumpf
Holiday Gift Guide (Wine Lovers Edition)
The holiday shopping season is officially upon us, and we've got everything you need for the wine lovers in your life! Our Holiday Shop has everything from gift sets and holiday wines to wine accessories and games. Click here to visit our Holiday Shop and read on for some of our top picks this holiday season!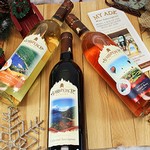 My ADK is the gift that keeps on giving! It's perfect for someone who loves to experiment and try new wines. When you gift someone a subscription, they'll get to choose 3 or more bottles every month and have them shipped right to their door. They'll gain rewards the more they order and earn perks like free wine tastings. The best part about My ADK is how flexible it is. The subscription can be stopped at any time so you can gift it for however long you want, whether it's three months, six months, a year, or more! Click here to learn more about My ADK and how you can give it as a gift!
There's no better gift than one that includes an experience. Our Holiday Mystery Box is a game where we send you six bottles of hidden wine, and you have to work with your group to guess each one. We send you all the tools, and you even get to choose between dry or fruity wines. You can send us back your responses and for every correct guess, you'll be entered to win a free case of wine! It's a great game to play with friends and family at your holiday parties and will be a gift they will always remember! Click here to order (there's free shipping and regular bottle discounts apply!).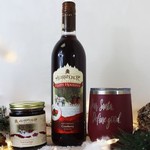 Looking to give the gift of wine but want it to be a little extra special? Our wine gift sets are the perfect options! We've got an array of gift sets available at various price points from $25 & Under like our Red Carriage Lovers Gift Set to $100 & Up Gifts that are sure to make the wine lover in your life happy this Holiday season! Click here to view our gift set selection!

Everybody loves a good wine saying! With sayings like "Dear Santa, the Wine Made Me Do It" and "I'm Dreaming of a Wine Christmas," these Christmas cups are perfect for your favorite wine drinker. Especially those who like to take their wine on the go. Click here to shop!
There's nothing wrong with an early Christmas gift. Give the wine lover in your life something they can enjoy leading up to Christmas with our 12 Days of Wine-Mas Box! They'll get to open one surprise bottle every day for the 12 days leading up to the holiday. They can enjoy the wine on its own or check out the recipes and food pairings we provide with each one. We guarantee it will be the best Advent Calendar they've ever had. Click here to order!
The gifts don't stop there! We have tons more wine gifts and stocking stuffers like our holiday label wines, ornaments, winery calendar, coasters, and more! Visit adkwinery.com/holidayshop to order online and visit our Lake George Tasting Room seven days a week to browse holiday gifts in person!
Comments
Commenting has been turned off.