March 11, 2015 | Adirondack Winery Staff
Just a Taste of What's to Come at our 7th Anniversary Celebration!
By now you have probably heard that we are gearing up for our 7th Anniversary Celebration on Saturday, April 11th. You may have also heard that it is going to be bigger and better than ever before.
How do we know this? The proof is in the pudding, my friends... Ok, there's no pudding, but there is Black Forest Cake with Wild Red Cherry Wine Sauce! There is also a wine-infused menu like you have never seen (or tasted) before.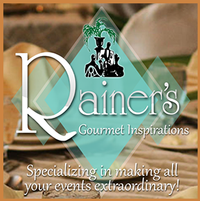 Our 7th Anniversary is being held on Saturday, April 11th at the Ramada in Queensbury and will be catered by the award-winning, Rainer's Gourmet Inspirations. With 25 years of experience, Rainer and Karen Mehalik have made their mark in the catering industry, specializing in making events extraordinary, and our event is no exception.
Combining our award-winning wines with Rainer's award-winning food has resulted in a one-of-a-kind menu that truly spotlights our wines & makes them the stars of the evening. Not only will our wine be available for tastings and by the glass, it will be available in the food!
There will be four wine-infused food stations, some of them Chef Attended, with display cooking! Each station will include several menu selections, each incorporating a different Adirondack Winery wine; even the salad station will incorporate our wines!
Speaking of the salad, first up is the Salad Shooter Station. You won't find your every day Garden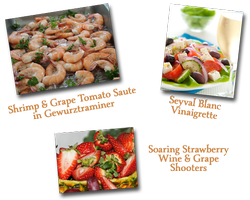 and Caesar Salads at our party; Rainer's has come up with a unique spin on this station that includes an assortment of chopped salad shooters, Mellow Blush infused melon shooters and a Seyval Blanc Vinaigrette Dressing that is out of this world!
Next up, are the Entree Sample Stations. Enjoy a little Country Comfort when you stop by this station and watch as the Chef cooks up some Grilled Vegetables infused with Pinot Grigio paired with Country-Style Mashed Potatoes, Sirloin Tips in Fireside Reserve Port Wine Sauce and more.
There will also be penne pasta dishes cooked to order along with a Fireworks Merlot Bolognese Sauce, Shrimp & Grape Tomato Sauté in Gewürztramier and Chicken Scaloppini with Dry Riesling.
Last, but certainly not least is the Dessert Shooter Station, and for the love of wine and chocolate, this station is a dream come true! With selections like Apple Crisp with Orchard Blossom Wine Sauce, Java Bars with Calm After the Storm Port Wine Sabayon and Soaring Strawberry Wine & Grape Shooters, you'll want to make sure you leave room for dessert.. and probably more than just one!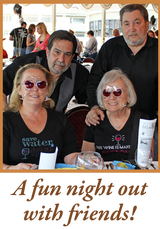 I'm sure you don't need much more convincing to attend our 7th Anniversary Celebration after this mouth-watering menu teaser, but I assure you there are plenty more reasons why you won't want to miss this event. The night will be filled with fun games, over $750 in raffle prizes, dancing to DJ entertainment, and of course all of your favorite Adirondack Winery wines! You can even make a weekend out of it with event-exclusive hotel packages offered by the Ramada with upgrades that include a welcome reception with live entertainment and Sunday brunch; hotel packages start at just $65.50!
Tickets are selling quickly with 1/3 of them already gone! Click here to purchase your tickets today & be a part of our most anticipated event of the year!
Cheers!
Comments
Commenting has been turned off.