April 3, 2017 | Winery Announcements | Adirondack Winery Staff
Introducing Screw Caps!
If you have been following along, you may know that last year, we made some significant upgrades to our processes at the winery (catch up here and here). The most substantial addition was that of a new bottling machine (watch it in action). Our new bottling line allows us to fill, seal and label bottles within one continuous progression, emptying a tank in just a few hours - the process previously took up to three days at four different stations! One of the best parts of this new machines is its ability to seal bottles with corks or screw caps, depending on which best suits the wine.
There are quite a few factors that come into play when determining the best way to seal your wine – breathability, aesthetic, accessibility, etc. – and while we still feel some wine absolutely needs to be corked, we could not ignore the industry trends and benefits of utilizing screw caps.
Across the world wine makers are moving to screw cap closures, as time and testing has proven their quality. In Australia and New Zealand, as much as 90% of wineries have moved completely to screw cap closures. Per Wine Spectator, a 10-year study performed by the Australian Wine Research Institute indicated that wine retaining the most freshness over time had screw cap closures.
Screw Caps also make issues relating to a "corked bottle" obsolete, completely removing the risk of TCA and bits of cork breaking off! But, best of all, screw Cap closures are easier to open and close, making wine more accessible and easy to enjoy!
That's why we have decided to transition our fruit infused wines, most of our white wines and some of our dry red wines to screw cap closures. Specifically, these wines were chosen because they are most often intended to be enjoyed near the purchase date and don't benefit greatly from aging for long periods of time.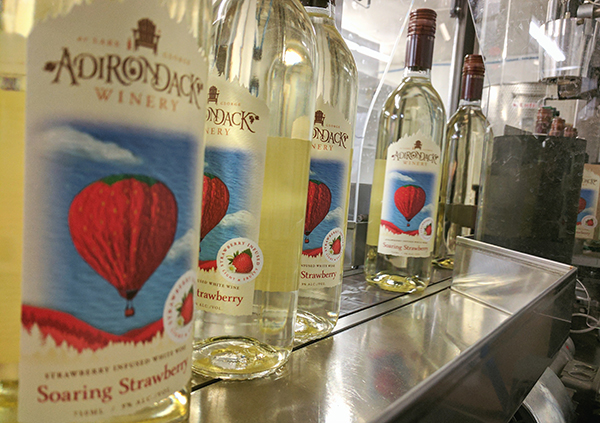 How do they work?
Traditional, corked bottles can "breathe", meaning trace amounts of oxygen enter through the cork as time goes on. Adirondack Winery utilizes a Stelvin screw cap, which allows for a tiny amount of controlled oxygen transfer in our bottles over time, but not quite as much as cork. When we bottle wine for screw cap closures, we want to maintain its initial freshness over time as best we can. That means our screw-capped Amethyst Sunset or Pinot Gris is more likely to taste exactly the same whether you open it the day it was released or after a year in your wine rack.
Now, there are some wines that we feel absolutely benefit from "breathing" over time, and we have no intention of transitioning them to screw caps. These wines tend to be the ones that we already choose to age for longer periods, like our Meritage, Barrel Aged Chardonnay or Cabernet Sauvignon. We feel our premium desserts wines are better suited for cork closures too.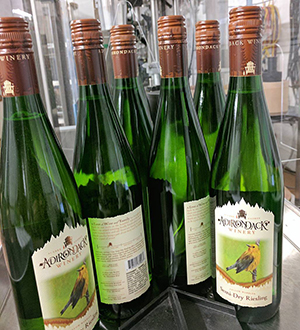 We know that for some of our customers, transitioning to screw caps may seem to be a surprising choice, but it was with careful consideration, diligence, and planning that we ultimately made this decision. We are constantly looking for ways to improve, and we hope you trust us with this transition, just as you have entrusted us to consistently deliver a quality product for the last nine years. We promise to continue to deliver the same delicious wine you have come to love.
Cheers to the future and cheers to great wine!
Sincerely,
Michael Pardy (Your Wine Maker)
and
Sasha Pardy (President)
To view a selection of wine currently available with screw caps or to stay up to date, visit our online store.
Sources:
Winefolly.com
cawineclub.com/blog/
Totalwine.com/
Winemag.com/
Comments
Commenting has been turned off.