April 27, 2016 | Adirondack Winery Staff
Mother's Day Gift Guide
If anyone deserves a holiday of their own, it's mom! She's given you everything, and each year, Mother's Day is a special opportunity to say thanks. It's not always easy to pick out the right gift for Mom, but we've picked out a few of our favorites to get you started.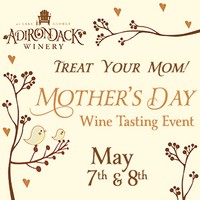 There's no better way to celebrate Mom than with a day at the lake! That's why we're celebrating moms everywhere all Mother's Day Weekend at the Tasting Room. Make her feel like a Queen for the Day with a tasting package for one, or give her (and yourself) a Sweet Treat with a tasting for two! Both packages come with special wine tastings and snacks, and every mom gets a free wine slushie and souvenir connoisseur wine glass!

Too early for a glass of wine? There's always coffee! Give your mom a smile every morning and blend together a few of her favorite things with this Adirondack Winery faux terra-cotta coffee mug.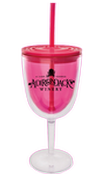 With this insulated wine cup, Mom can take her wine for a walk and keep it cool too. The lid prevents spills and the stem keeps it classy — perfect for a day on the lake!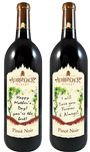 Make your gift as unique as your mom with a personalized, handwritten label! The bottle comes full and the label comes blank, so you can personalize it any way you want. Say thanks to Mom with a bottle that is truly all her own!
I hope that all of you wine-loving Moms out there have a very Happy Mother's Day and are able to spend some quality time with your loved ones. Hope to see you soon!
Cheers!

Comments
Commenting has been turned off.