March 24, 2020 | Roberto Cruz
New York Liquor Store's Delivering ADK Winery Wines!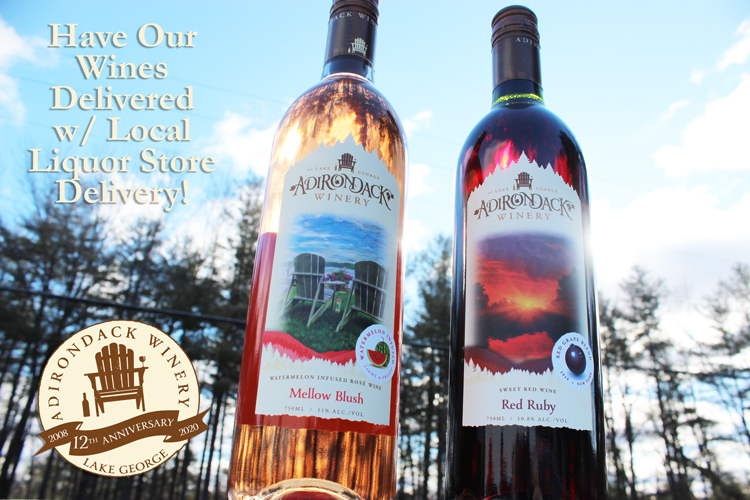 These are challenging times for all of us; not only from a health and mental health perspective, but for business owners like the owners of the 400+ liquor stores across New York state that carry our wines.
As many of them adapt to this new - albeit temporary – reality, these businesses are finding resourceful ways to keep their doors open – and offering new services like delivery!
Join us in supporting the following businesses who now offer delivery to customers in their local market.
We at Adirondack Winery always encourage our customers to shop local, drink local – and we thank each and every one of you who helps keep our dream of winemaking in the Adirondacks a reality!
*This list will be updated as more information becomes available. For a full list of liquor stores that carry our wines, click here. For full delivery details, we encourage you to call each store or reach out via social media.
Capital Region
Empire Wine & Liquor
1440 Central Ave., Albany, NY 12205
(518) 694-8503
All Star Wine & Spirits
579 Troy Schenectady Road, Latham, NY 12110
(518) 220-9463
New York Wine & Liquor Warehouse
102 Van Rensselaer Ave., Rensselaer, NY 12144
(518) 874-1044
https://www.nywineandliquorwarehouse.com/
Laviano Wine & Liquor
1871 Western Ave., Albany, NY 12203
(518) 218-5400
North Country
Gateway Wine & Liquor
10 LG Plaza Road, Lake George, NY 12845
(518) 623-9463
https://www.gatewaywineliquor.com/
Long Island
*Curbside Pickup at Merrick Wine & Liquor
2152 Merrick Road, Merrick, NY 11566
(516) 223-8400
https://www.yelp.com/biz/merrick-wines-and-spirits-merrick
Western New York
Bremer's Wine & Liquor
4684 Commercial Drive, New Hartford, NY 13413
(315) 768-6400
https://bremerswineandliquor.com/
Northern New York
Old Forge Liquors
3047 NY-28, Old Forge, NY 13420
(315) 369-4405
https://www.facebook.com/oldforgeliquors/
And if your local liquor store doesn't deliver - call and ask to see if they'll ship our wines to you! Many do! Find out which stores carry our wines at adkwinery.com/wheretobuy
You can also call us directly and shop from our full selection of 25+ New York made fruit-infused and dry varietal wines! We are now offering curbside pickup - including on-the-spot curbside pickup - at both our Queensbury and Lake George locations. Just give us a call at 518-668-9463 (or call 518-203-2597 to reach out Lake George Tasting Room directly!). You can also take advantage of these special bottle deals on any order - in-store or online!
5% off 4-5 btls | 10% off 6-11 btls | 15% off 12+ btls | FREE Shipping on orders of 6 btls or more!
And Club Members save even more with deeper discounts! Click here to learn more and go to adkwinery.com/wines to place your order today!
Comments
Commenting has been turned off.