November 9, 2018 | Roberto Cruz
Our 2014 Library Wines are ON SALE NOW!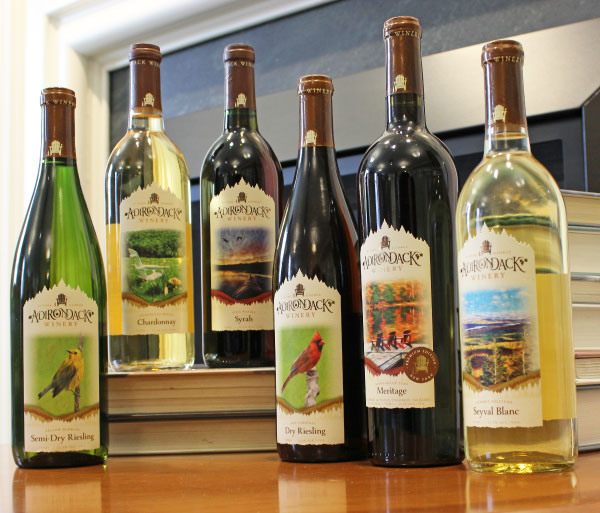 Our 2014 Library Wines are now available, and we are NOT keeping quiet about them!
We are super excited to offer SIX of our favorite wines from 2014, which you can purchase online and in our Lake George Tasting Room. There are only four cases of each available – so act quickly!
Library wine is a term used to describe a wine that has been aged in a temperature- and light-controlled wine cellar, which allows the wine to mature. Aging a wine can improve its taste, fragrance, and texture.
We choose each of our Library Wines for a different reason, but this year's crop was selected either because of its popularity, because it was a new wine or because it racked up plenty of awards.
Here are a few notes about each of our 2014 Library Wines:
Our very first vintage of this award-winning red wine, Meritage is our artful blend of Merlot, Cabernet Sauvignon, and Malbec Grapes. Aged in Oak Barrels for 18 months, this inaugural vintage won the Critics Platinum Award at the 2016 International Wine & Spirits Competition. What a way to make a name for itself!
In 2014, Catherine Fallis, Master Sommelier wrote of the Seyval in her Planet Grape Wine Review: "Crisp and juicy with a light sweetness and notes of lemon, apple, pear, peach, ginger, wax, and bay leaf." The 2014 vintage won a Gold Medal at the 2017 Winemaker Challenge and the 2016 Jefferson Cup Invitational.
One of two of our new New York Rieslings released in 2014, our award-winning Dry Riesling is moderately full-bodied, with a well-rounded, but zesty and fresh taste, offering notes of tropical fruit and peach with a clean acidity and lingering spiciness on the palate.
The second of our new-in-2014 Rieslings, our Semi-Dry Riesling offers subtle aromas of apricot, followed by tones of green apple and pear, finishing with a well-balanced, soft acidity.
With a cork closure, our Syrah has benefited from time spent bottle aging. In general, red wines benefit the most from long-term aging, as the tannins of the wine join together to form "long chains". Those "long chains" are what smooths out the wine and gives it a silkier mouthfeel that only an aged red can have!
Finally, our 2014 New York Chardonnay is the winner of numerous awards including medals from the 2016 International Craft Competition and the 2016 Florida State Fair International Wine & Grape Competition. A longtime favorite among customers, it was the first of our Chardonnays to showcase the true fruity characteristics of New York grapes!
We hope you are as excited for our 2014 Library Wines as we are. Get yours today because they will sell out! And you can fill out your library with the many wines available at a great price in our Holiday Shop! Cheers!
Comments
Commenting has been turned off.