November 21, 2014 | Adirondack Winery's This and That... | Sasha Pardy
Our New & Improved Brand is Here!
The day has finally arrived....
As I sit here writing this, I am putting the finishing touches on our brand new website, and I can't help but sit back and admire the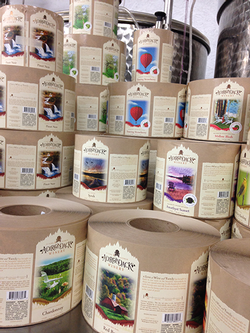 finished product of our hard work and the growth that has taken place, not only over the last few months, but the last 7 years.
For the past several months, we have been working very closely with award-winning packaging design firm, A3 Design to develop an updated brand image for Adirondack Winery that includes a new logo, wine labels and website. To do this we had to ask ourselves, "Who are we?..." "Who are our customers?" and "What does Adirondack Winery mean to people?".
The answer is, we are Adirondack Winery; A family-run business that produces locally-handcrafted, award-winning wines in the heart of Lake George Village, in the beautiful Adirondack Mountains. Whether our customers come from down the street or across the country, they enjoy our wines while spending time with family and friends; We are not just a stop along the way, we are a part of their story; a part of their memories.
Our new brand truly represents who we are and what we're all about. It says, "Pull up an Adirondack Chair, pour you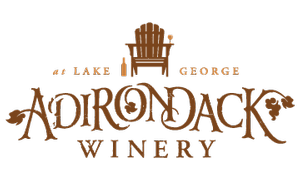 rself a glass of Adirondack Winery wine and take in the beauty of Lake George."
So, without further ado, I am proud to present to you for the very first time, our NEW & IMPROVED Adirondack Winery Brand!
Logo
Our new logo features the iconic Adirondack Chair above our name; You will notice that the Adirondack Chair is now a reoccurring theme across many of our new labels. A3 Design also created beautiful grapevine artwork that spells out Adirondack Winery.
Here are a few other versions of our logo you may see on wine menus, marketing materials or correspondence you may receive from us.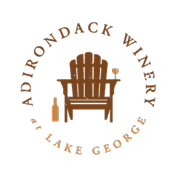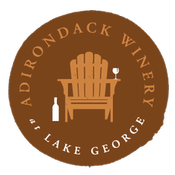 Labels

Our labels were always more than just wine labels. They were created to provide lasting memories and keepsakes to the people who crossed our path and enjoyed our wines. Our former labels featured photographs of the Adirondacks and Lake George landmarks. People connected to these photographs because they brought back memories and reminded them of special moments in their lives.
This was a very important element to maintain while re-inventing the look of our labels. We needed to somehow, create a unified look, while incorporating all different images, and we have done just that.
While some of our photographs have changed, we have kept the imagery of the Adirondacks on our labels. Our cream-colored labels now feature painted images of Adirondack landmarks and scenery that ignite a sense of nostalgia and whimsy.
Click on the image of the bottles to see it larger.
Meet Soaring Strawberry
Actually, there is no need for an introduction; You have already met!
Our Soaring Strawberry is our BEST-SELLING wine, formally known as STRAWSLING.
Even if this wine isn't your personal favorite (which is hard to believe), you have most likely heard the name Strawsling before. By far our most popular wine, it has soared (if you will), above all other wines for years now, so it was only fitting that we gave it a new name to match its beautiful new label featuring the famous Adirondack Balloon Festival Strawberry Balloon.
The Transition
While our website gives you a sneak peak of all of our new labels, it will take some time before you start seeing them on our shelves and in your shipments. If you ask me, it's a good time to stock up and drink up! You can get your piece of Adirondack Winery history by purchasing the last bottles featuring our former labels... and the faster we get through them, the faster you will see our brand NEW labels on the shelves!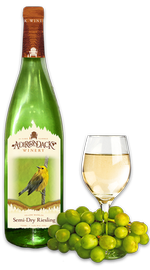 Our Semi Dry Riesling is the first of 3 new Rieslings we will be releasing and the first wine to feature our new label design! We have sourced the grapes from the Lake Ontario region and produced a very easy-drinking wine that offers aromas of apricot, tones of green apple and a well-balanced, soft acidity.
Over the next few months you'll start to see our brand transition really come together; Our new logo and labels will be popping up online, on liquor store shelves, and on your friends' and families' wine racks!
We are so grateful to all of you for sticking with us all these years and celebrating each of our milestones with us. We are so proud of the journey and the hard work that has lead us to this point and this change is as much for you as it is for us. We appreciate your patience as we complete this transition and we hope that you love the look of our new brand as much as we do!
Comments
alicia

@ Apr 21, 2015 at 5:44 PM

My fiance and I just enjoyed a bottle of amethyst sunset over dinner....welll....I should admit we finished it before dinner arrived because it was just that good... he kept commenting on how much he loves the new look ...truly classy design but pays tribute to your past....he's never been to Lake George and I can't wait to bring him to see the place where I order all of our great wines from !! So excited for you guys as you embark on a new design!

Commenting has been turned off.