March 15, 2022 | Wine Pairing Recommendations | Colleen Senglaub
St. Patrick's Day Wine and Food Pairings
Ever since I studied abroad in Ireland, St. Patrick's Day has been one of my favorite holidays.
Before visiting the country, I'd always heard that St. Patrick's Day wasn't actually that big of a holiday in Ireland. After spending the day in Dublin in 2019, I can definitely say that's a complete myth!
It's actually a national holiday in Ireland, with everybody having the day off of school and work to celebrate. While reminiscing on my time in Ireland, I got to wondering which ADK Winery wines would pair best with traditional Irish food. Here's what I decided on: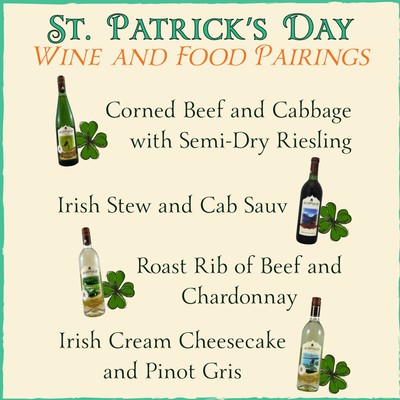 If you try any of these pairings, be sure to tag us on social media @adkwinery so we can share! Click here to book a tasting for our Pot of Gold Weekend and have the chance to win awesome prizes at the tasting room! Sláinte!
Want more St. Paddy's Day? Click here to check out a video of some St. Paddy's Day cookies we made at Abby's Cookie Jar in Glens Falls!
Comments
Commenting has been turned off.