August 29, 2014 | About Events | Adirondack Winery Staff
Summer is Wine-ding Down... But We're Just Getting Started!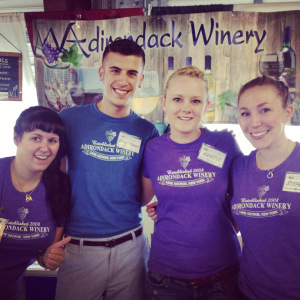 Summer may be coming to a close, but we are just getting started! We've had a blast this summer, traveling across New York, all the way from the Hudson Valley up to the Canadian border and we are ready to see more!
We returned to some of our favorite places while embarking on new adventures as well. We were just as excited to see some familiar faces at places like the Putnam County Wine & Food Festival as we were to serve the masses at the Finger Lakes Wine Festival for the very first time this year.
While we already have about 25+ events under our belt this year, we can't stop now... There are still so many empty wine glasses and so many of you to see! We will be bringing our award-winning, best-selling wines everywhere from Saranac Lake to Hunter Mountain, even to the NY Botanical Gardens in the Bronx this Fall; So be sure to Like us on Facebook and check our website for our up-to-the-minute events schedule.
So, last year, I introduced you to Stephanie, our Events Manager. This year, Stephanie recruited 2 new team members, Christopher and Logan, so that we can travel farther and to even more events to see all of you wine lovers!
I asked our newest additions how their first summer with us went and here is what they had to say: "I think my favorite events so far was working at LARAC. I usually go as a patron, so it was nice to be a part of the festival this year. I saw a lot of familiar faces and it was nice to meet and mingle with the people who enjoy our wine everyday and, on the flip side, introduce our wine to people who had never tried it before." - Christopher
"My favorite part [about off-site events] is being able to travel to new places. It is so much fun to see the beautiful areas where the events are held. So far one of my favorite places was Sackets Harbor." - Logan
When I checked back in with Stephanie to get her take on the summer, here's what she had to say: "Our Summer 2014 event season was a huge success! We attended some great, new festivals for the first time and made our way back to some of our favorites for a 2nd year in row. I love getting to meet wine-lovers from NY and beyond and introducing them to what Adirondack Winery has to offer. [Seeing a sweet wine drinker's eyes light up after trying Strawsling for the first time? Priceless!*] And of course, it's always fun to see some familiar faces along the way and catch up with our long-time Adirondack Winery fans! I'm sad to see Summer go, but I'm looking forward to a busy, fun and wine-filled Fall event season!"
She's right - we definitely have a fun and wine-filled Fall ahead of us; So be sure to visit us when we hit a city near you!See you on the road... Cheers!
Comments
Commenting has been turned off.