November 3, 2016 | About Events, Press Releases | Adirondack Winery Staff
THANK YOU for making Drink Pink 2016 another success!

The numbers are in and October's Drink Pink 2016 exceeded every expectation! Thanks to your help, we Made Strides Against Breast Cancer and broke our fundraising record and beat our 2016 goal by over $500! With 2 sold out wine glass painting parties, customer donations, retail sales, Drink Pink Berry Blush, and team fundraising, we raised a total of $4,538! Your generosity and excitement about our 4th Annual Drink Pink Fundraising Event was overwhelming!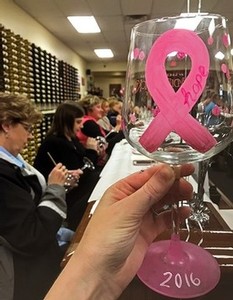 We kicked off our fundraising in mid-September with the release of our limited-edition, Drink Pink Berry Blush — a charitable wine, from which $4 from each bottle sold was donated. We SOLD OUT before the month was over and raised over $2,000 towards our total donation!
The fundraising continued with not one, but two Wine Glass Painting Parties at the Tasting Room! Guests spent the night painting wine glasses under the direction of Kori White from the Lower Adirondack Regional Arts Council (LARAC) and enjoyed a full wine tasting session, some games and more! The response was so great this year, that next year, we'll be adding a THIRD Drink Pink Wine Glass Painting Party!
Next up was our 4th Annual Drink Pink Weekend! The Tasting Room was packed and guests were treated to free samples of Drink Pink Berry Blush, wines tastings, games, wine slushies and a few spectacular raffle baskets! In addition to an Adirondack Winery "Drink Pink Basket", we able to pack a "Craft Beverage Basket" and "Lake George Getaway Basket" thanks to the donations of some fabulous local businesses. Thank you to: Hoppy Trails Brew Bus, Adirondack Brewery, Lake George Distilling Co., Nine Pin Cider, The Lake Motel, Dunham's Bay Resort, Ninety-Nine Restaurant, Log Jam Restaurant, Top of the World Gold Course, The Fun Spot, Great Escape Lodge, and Tubby Tubes.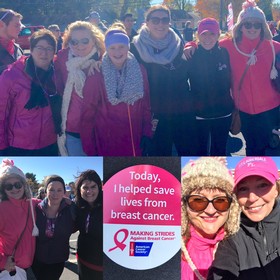 Our Drink Pink season culminated in the annual Making Strides Against Breast Cancer Walk of Warren County. 315 participants came together and raised $30,077 towards breast cancer research and awareness! Adirondack Winery was honored to be the top fundraising company and second highest fundraising team this year and to see our hard work pay off as we stood beside survivors and their families.
We are continually humbled and honored to know we have such wonderful customers who help us to utilize our success to give back to the community that supports us. Don't forget to mark your calendars for next year, because we're making even more Drink Pink Berry Blush, and setting our goals even higher! Cheers!
Photogallery rendered here.
Check out the rest of the photos from Drink Pink 2016 on our Facebook Page>>
Comments
Commenting has been turned off.