November 3, 2017 | About Events | Sasha Pardy
Thank You for Drinking Pink with Us - You Helped us CRUSH our Fundraising Goals!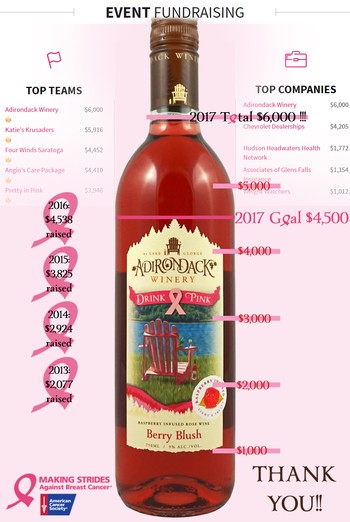 Our final numbers are in.... Thanks to the help of our customers, employees, friends and family... we were able to CRUSH our Drink Pink 2017 Fundraising Goals! With 3 sold out wine glass painting parties, customer donations, raffle baskets, retail sales, Drink Pink Berry Blush and other Rose wines, and team fundraising, we raised a total of $6,000 for Making Strides Against Breast Cancer of the Adirondacks; beating our goal by $1,500! Your generosity and excitement about our 5th Annual Drink Pink Fundraising Event was overwhelming - Thank You SO much for the part you played!
We kicked off our fundraising in mid-September with the release of our limited-edition, Drink Pink Berry Blush — a charitable wine, from which $4 from each bottle sold was donated. In addition, we donated a portion of sales from our Rose wines sold in our Lake George and Bolton Landing Tasting Rooms.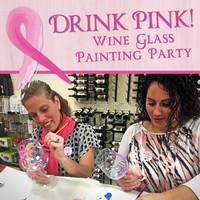 The fundraising continued with not one, but three "Drink Pink" Wine Glass Painting Parties at the Tasting Room! Guests spent these special nights painting wine glasses with a Drink Pink theme under the direction of winery staff and enjoyed a full wine tasting session, some games and more! These parties sold out fast... so mark your calendars to jump on tickets when they're available next year!
Next up was our 5th Annual Drink Pink Weekend! The Tasting Room was packed and guests were treated to free samples of our Drink Pink Berrylicious Spritzer Wine Cocktail and our Rose wines, enjoyed wines tasting session, played games, delighted in pink wine slushies, shopped our fun pink wine accessories and gifts, and bought tickets to a few spectacular raffle baskets! See our Drink Pink Weekend Facebook Photo Album Here>>
A special thank you to these local businesses who donated to the three amazing raffle baskets we were able to put together: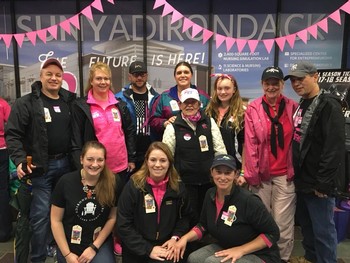 Our Drink Pink season culminated in the annual Making Strides Against Breast Cancer Walk of the Adirondacks, which was held at the Cool Insuring Arena on October 29th. Hundreds of participants came together and raised over $57,000 ($27,000 more than 2016!!) towards breast cancer research and awareness! Adirondack Winery is honored to be the top fundraising company and fundraising team this year -- to see the hard work of our team, employees, customers, friends and families pay off as we stood beside survivors was humbling.
We are continually honored and to play a part in Making Strides each year (they have an excellent local team at the American Cancer Society) and we are forever grateful to our customers who help us give back to the community that supports us. Making Strides ensures that no one dealing with a breast cancer diagnosis will walk alone and these donations help fund research, provide free information and support services, and help detect the disease early when it's easiest to treat. Don't forget to mark your calendars for 2018 Drink Pink, because we're making even more Drink Pink wine, and setting our goals even higher!
Sincerely,
Sasha & Mike Pardy and the Adirondack Winery Staff
Comments
Commenting has been turned off.