July 25, 2021 | Holiday Guides, Recipes, Seasonal Favorites, Wine Pairing Recommendations | Adirondack Winery Staff
Ultimate Adirondack Winery Wine & Cheese Pairing Guide
Are there two things that go together better than wine and cheese? We don't think so! Sunday is National Wine & Cheese Day, and here at the Adirondack Winery, we have endless yummy combinations for you to get your wine and cheese fix! Here are some of our favorite pairings, tips and must-haves for creating a delicious wine and cheese tasting at home, so you can celebrate the Adirondack Winery way!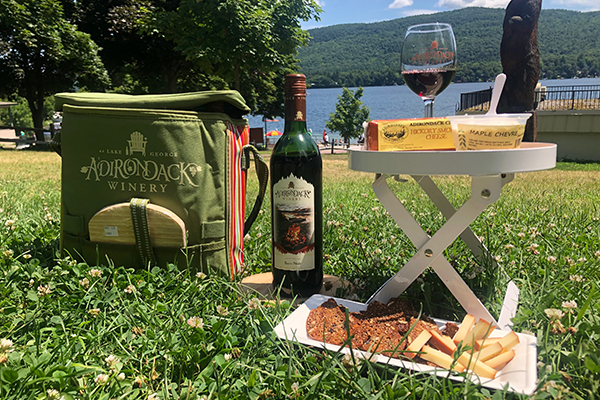 How to prepare your Cheese Plate:
For a classic cheese plate, we recommend
at least
2 cheeses, something sweet, something savory, something crunchy and of course, wine! Try to choose wines that are not too bold, but will complement the flavors in your cheese plate. We recommend Adirondack Winery
Barrel Aged Chardonnay
and
Baco Noir
. Both of these wines are easy drinking and have refreshing, earthy qualities that will enhance the variety of flavors of cheese.
Here's our favorite simple cheese plate set-up:
Take it a step further with these popular pairings:
Soft Cheese (feta or goat cheese): we like Nettle Meadow Chevre
Rich, nutty, cheese (brie, swiss, parmesan): we like Nettle Meadow Kunik
Mild melty cheese (mozzarella, Mexican cheeses)
Smoked Cheeses (gouda, smoked mozz): we like Lowville Producers Cheese Stores Gouda
You can count on these wine & cheese tips too:
Cheddars and similar sharp "English" cheeses
Swiss, Gruyere, and the equivalent
Blue cheeses
Ripe, creamy cheeses like Camembert and Brie Rich
Wine & Cheese Pairing Must-Haves: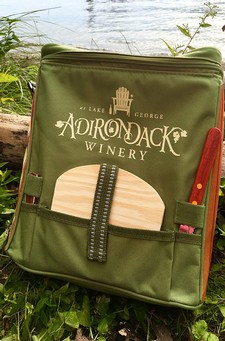 Wine & Cheese Pairing Wheel – No more guesswork ... spin this wheel to pick the perfect cheese to go with your bottle of Adirondack Winery wine. You'll find a white, red, and dessert/sparkling wine suggestion for everything from Asiago to Taleggio and everything in between. Available online or in-store.
Adirondack Winery Picnic Cooler Bag – You can pick up some chilled wine and cheese at our Lake George Tasting room along with this fully insulated cooler. Nice and roomy with plenty of space for wine, cheese, snacks and more, this picnic bag comes neat and organized with corkscrew, cheese board and a knife! Take a nice lakeside walk and have a relaxing picnic by the water in Lake George Battlefield Park. Don't forget stemless plastic tumblers for you wine too!
And to read more about the science of wine and food pairing, check out this fascinating blog post from Wine Cellar Innovations.
Comments
Commenting has been turned off.