September 27, 2022 | Winery Announcements | Rachel Rumpf
We are more than your traditional bar!
While we are not your traditional bar, we are so much more! Our Queensbury Tasting Room has turned the vibes up with additional bar menu items outside of our original wine tasting that is offered at both of our locations. While we do not offer your standard fun party shots, we have a full list of yummy cocktails that are made with local spirits from around the Adirondacks! They are very Instagram-worthy and a variety of them change seasonally, so be sure to get in the autumn mood with us!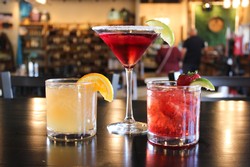 We offer an original wine tasting that allows you to try seven of our forty different types of fruit-infused and varietal wines. We want you to try and enjoy as many of our wines as possible, as we have a large variety to choose from including whites, reds, sparkling wines, and of course our fruit-infused wines! There are so many great wines that you really must get the full tasting experience before you make your final decision on a full glass or some bottles to take home with you.
In addition to our cocktails and plentiful wine options, we also have a variety of hard cider and beer that are all sourced from local breweries around the area! We have options for every pallet that enters our facilities! We want you to find something that you love as much as we do! We have everything from lagers to ambers to IPAs!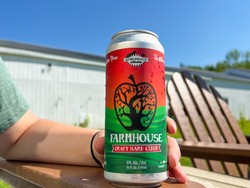 In addition to the beer, wine, and cocktails we also offer wine slushies that you can sip on while you complete your tasting or enjoy afterward! There are a variety of different flavors, and they are offered at both of our locations! We also have a frosé lemonade that can be topped with a wine of your choice, which we offer in the tasting room. The slushies are offered during the warmer months to cool you down. Starting after Columbus Day we will be switching the slushies out for warm wine cocktails.
For those of you who have a sweet tooth, we also have several options on our menu to satisfy your cravings! We have wine-infused ice cream that can be enjoyed alone or in a Sinful Sundae, that you will not regret. In addition to the ice cream sundaes, there are also wine ice cream floats and ice cream sandwiches that are made with ice cream from Martha's!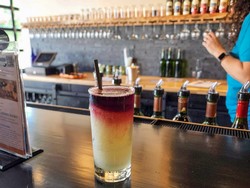 There are also a variety of non-alcoholic options at the Tasting Room if that's more your style! We have juices, hot coffee, soda, lemonade, cold brew in a can, kombucha, and Saratoga sparkling or still water.
We have something for everyone here at Adirondack Winery, so be sure to come to visit us today and enjoy all the options that the tasting room has to offer!
Comments
Commenting has been turned off.