June 10, 2017 | Winery Announcements | Sasha Pardy
We've Opened a Second Tasting Room!
I am so excited to announce that on June 9th, 2017, we opened a SECOND Adirondack Winery Tasting Room -- in Bolton Landing, New York! What a way to launch our 10th Summer Season on Lake George!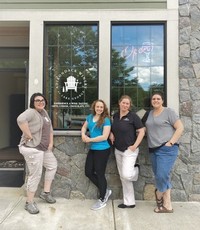 Mike and I have been talking about hopes to open a second tasting room for so many years now, I think to some people it was beginning to sound like a pipe dream! It's amazing how time has flown over the last nine years... our growth has been slow, steady and sometimes overwhelming during all these years. Whether it was adding new staff, or wine production, or launching the Adirondack Wine and Food Festival, or growing our wholesale business, or tending to family matters, it wasn't until this year that we felt like we could take the next big step in growth for Adirondack Winery. So, I am so thrilled to say that, together with our amazing staff and support from some great folks in the Bolton Landing community, we have finally done it!
WHY BOLTON LANDING?
Over the years, as we have spent more and more time exploring the Lake George Region and broadening our reach into other nearby communties, Bolton Landing began to stand out to us. This small town just 10 miles north of Lake George Village is one of the most desired communities for Lake George vacation go-ers to stay and reside during their summers. The centerpiece of Bolton Landing is the beautiful Sagamore Resort, but the town is also known for its great location for boaters and its eclectic mix of shops and excellent restaurants. Anyone we have chatted about Bolton Landing with has told us what a great place to be it is and that has been our experience as well in the time we've spent there and the people we've crossed paths with.
We think Adirondack Winery will complement Bolton's existing shops and restaurants very well and its visitors will enjoy the good wine and unique wine tasting experience we deliver. We're sure that the same people who love shopping for unique finds at Indian Tepee Gift Shop, looking for carefree summer clothes at Adirondack Cotton, snagging fun gifts at Happy Jacks, enjoying a drink on the porch at Huddle Bay Kitchen, picking up the perfect Adirondack Chair at Forest Hill, enjoying a slice at Palazzo's Pizza, and licking their Lips at Bob's Ice Cream; will also LOVE a wine tasting session at the Adirondack Winery Tasting Room to find just the right wines for them.
THE LOCATION
Adirondack Winery's Bolton Landing Tasting Room is located at 4971 Lake Shore Drive (Route 9N) in Bolton Landing. We're right across the street from Tops Market, wedged between Palazzo's Pizza and Bob's Ice Cream, and just a step away from the driveway into the Sagamore Resort. It a great spot that is easily walkable from the other shops and restaurants in town.
WHAT'S THE NEW TASTING ROOM LIKE?
We hope you will come in and see for yourself, but we're very proud of the design we've created at our Bolton Landing Tasting Room. Bathed in our signature Forest Brown, Copper and Cream color tones, this tasting room features wood floors, rustic wood and iron pipe decor, cork and chalkboard walls, a completely different design for our famous #WallOfWine, and a very unique tasting bar top embedded with broken Adirondack Winery wine bottles!
At this Tasting Room, we are featuring ONLY our New York wines (for more on that recent change, read here). You will find similar tasting experiences and retail items to our Lake George Tasting Room, with some minor changes (for now). Your favorite Tasting Room Guru, Ava Dally is leading the charge at both Tasting Rooms now, with trusty staffer, Darren at her side in Lake George and a lovely new hire, Bunnii, as her right hand woman in Bolton Landing.
THANK YOU!
We hope you will come check out our new location in Bolton Landing; but we love to have you visit no matter where... whether its on Canada Street in Lake George, on Lake Shore Drive in Bolton Landing, or at the winery location in Queensbury, or at the Adirondack Wine & Food Festival, or at a liquor store near you, we're just happy you're compelled to include Adirondack Winery in your life!
Sincerely,
Sasha & Mike Pardy
Comments
Commenting has been turned off.